Back to Blog
It's official…Bluco is an amazing place to work!
BLUCO NAMED ONE OF THE BEST AND BRIGHTEST COMPANIES TO WORK FOR® IN CHICAGOLAND
We strive to offer incentives and programs that reward the development of each individual as a whole person instead of just as an employee…To support that, we place a high priority on both physical and mental health.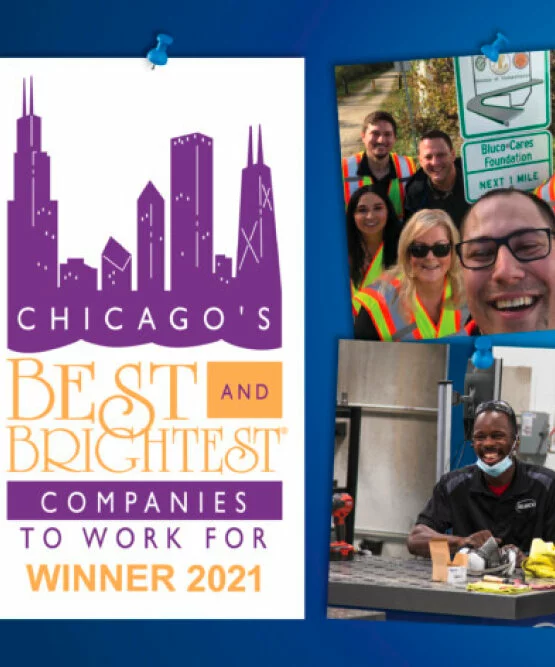 We knew there was something special about this place, and it turns out we were right! Bluco was recently recognized by the National Association for Business Resources (NABR) as one of Chicago's Best and Brightest Companies to Work For® in 2021.
To see all Chicagoland winners, click here to visit the Best & Brightest website >
This award recognizes companies like Bluco that believe delivering top-notch products & services to customers starts by creating a top-notch workplace for its employees.
Nominees for the awards are evaluated by an independent research firm using a number of criteria, including compensation, employee enrichment, engagement and retention, education and development, recruitment, diversity and inclusion, and more.
The NABR states that "Best and Brightest winners represent the most exceptional places to work. They are the companies and organizations who push operational standards forward, foster constructive environments, and display a commitment to their team members and community." Bluco was recognized for its success in these areas based on a nomination that included details on their culture, employee benefits, HR practices and charity efforts.
"We strive to offer incentives and programs that reward the development of each individual as a whole person instead of just as an employee," said Bluco Human Resources Representative, Margy Pagone. "To support that, we place a high priority on both physical and mental health," she adds. To that end, the company offers wellness incentives and flexible scheduling options.
In addition to forward-thinking HR practices, Bluco continues to offer unusual perks to motivate its team, like a game room that features a sports simulator, and an unusually entertaining quarterly all-company meeting venue – a movie theater. "We try to be creative about motivating people," says Pagone. "The theater location came about when the pandemic forced us to find a larger space. But it turned out to be so nice that we've continued going there, with dinner and a movie after when we can fit it in the schedule."
Small touches like these were just a few of the efforts called out in the employee survey administered by NABR. Bluco also scored high marks for their generous compensation and benefits packages, their charitable efforts (through the Bluco Cares Foundation), and their Supported Employment Program which offers employment opportunities for qualified individuals with special needs.
News of the award was shared with Bluco's team at their last quarterly meeting. "There were definitely a few tears shed that night," says Pagone. "Having the chance to share news of an award like this, with this group of people, is something I hope I'll get to do again and again." This was Bluco's first time entering the Best and Brightest competition. They were one of 140 Chicago-area companies announced as winners this year.
Interested in a career at Bluco? Check out our careers page for current job openings. >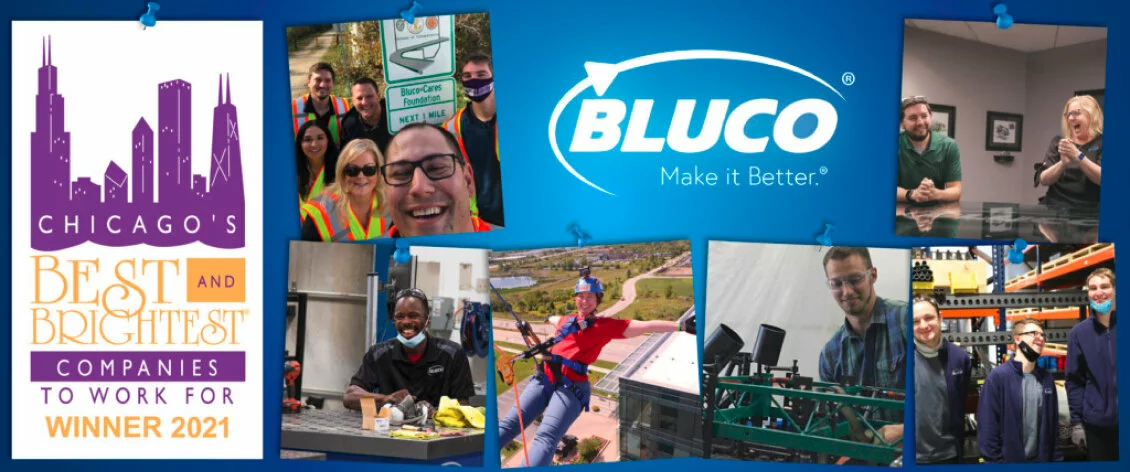 About Bluco
Bluco has dedicated itself to one mission for over 30 years: to Make it Better. For customers, that means creating world-class modular fixturing solutions for welding, machining, robotics and positioning. For team members, it means helping them to develop as individuals. And for the community, it means donating time and resources through Bluco Cares, and assisting young adults with special needs through Bluco's Supported Employment Program. Bluco offers employment opportunities in engineering, machining, welding, logistics, marketing, accounting, and administration. Their full-service facility provides employees the physical spaces they need to be their best, and state-of-the-art manufacturing facilities that allow the team to create modular solutions that help customers Make it Better.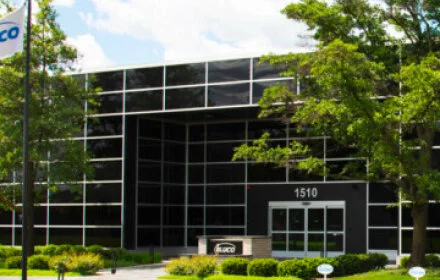 About the Best and Brightest Programs
The Best and Brightest Companies to Work For® competition identifies and honors companies that deliver exceptional human resource practices and an impressive commitment to their employees. Organizations are assessed based on categories such as communication, work-life balance, employee education, diversity, recognition, retention and more. Participating companies have the opportunity to benchmark results with other cities such as Atlanta, Los Angeles, New York, Nashville, Chicago and more.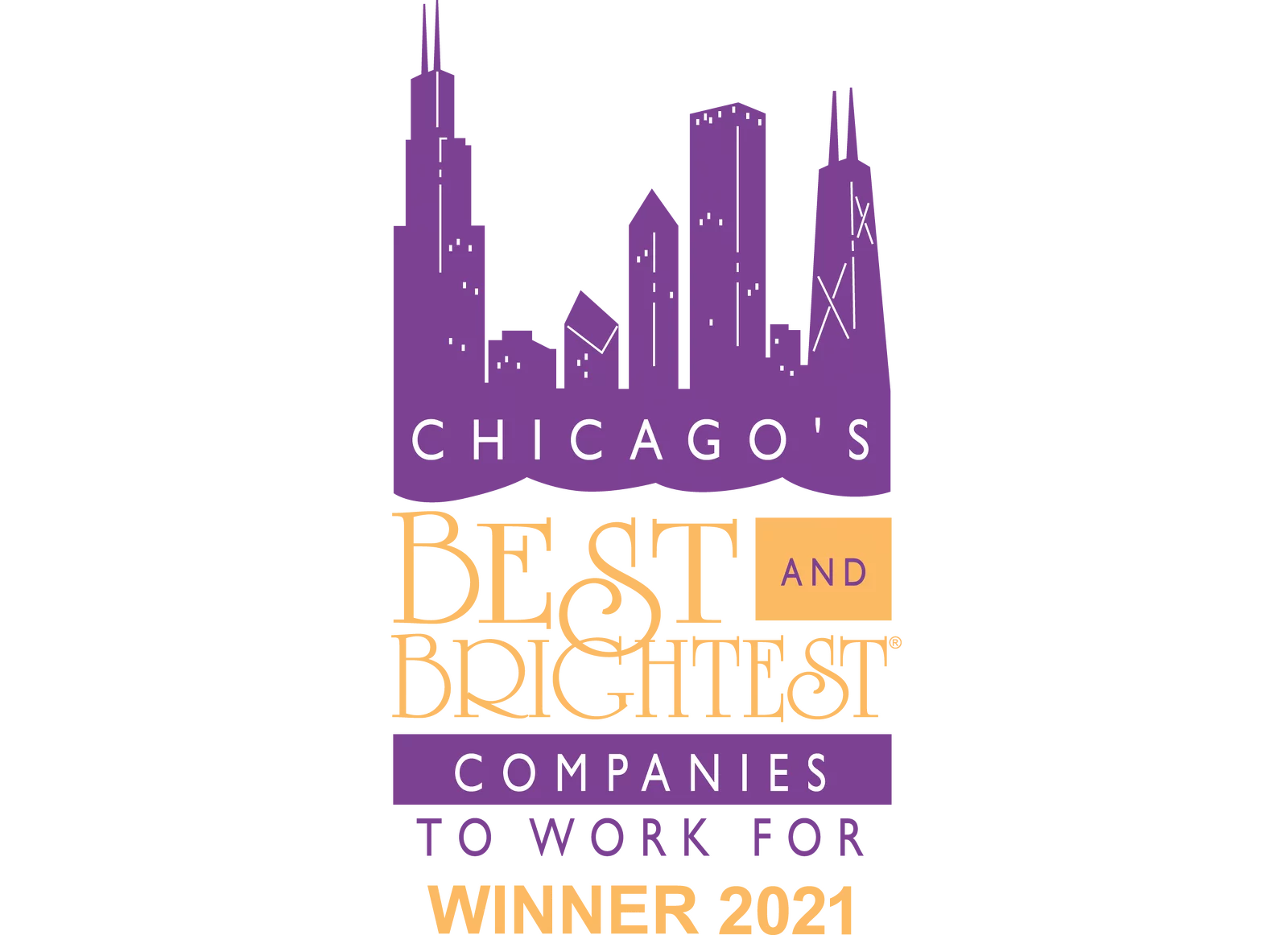 "There were definitely a few tears shed that night – Having the chance to share news of an award like this, with this group of people, is something I hope I'll get to do again and again."

-MARGY PAGONE, HUMAN RESOURCES