Back to Case Studies
25% Less Cost, Priceless Safety Improvement
Solution solves for varying part size, hard-to-reach welds and worker safety


Challenge
Parts that vary in size and need to be made one at a time are always a challenge, and this line was no exception. Ranging from 3' to 12' square, welders also needed to access each corner, and the inside and outside of the weldment. A larger table wasn't the answer, since that would require welders to climb on top or kneel on the ground. And of course, accuracy mattered — holes in the panel needed to align for assembly later.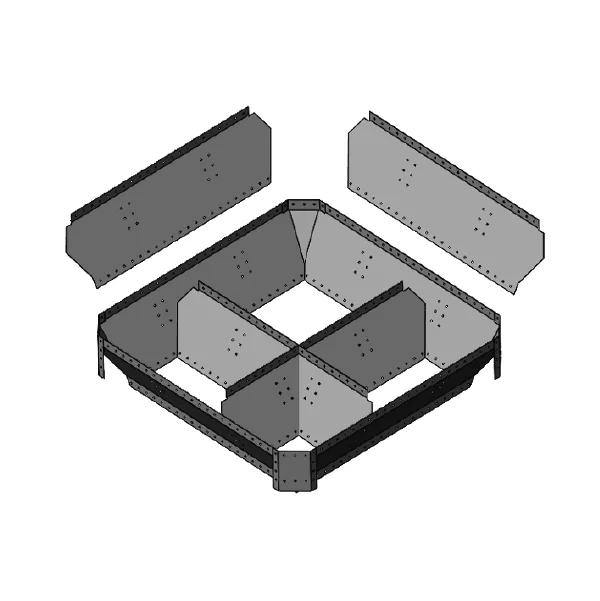 Solution
U-form system

Roller bearing assembly
The key to this solution is to open things up. Working with an open u-form structure instead of a table allows welders to access the part from all sides. U-forms slide on roller bearing assembly to accommodate differing part sizes., while anchored legs secure the four corners. Custom hybrid adapter plates align holes accurately every time.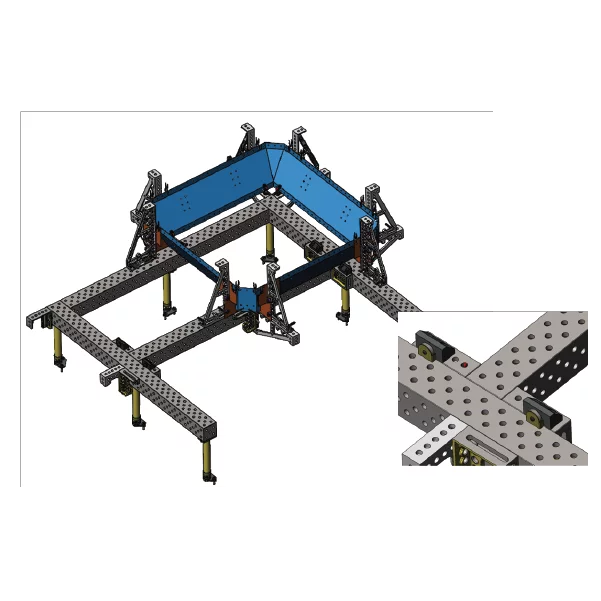 Results
The open concept allows welders easier access to all sides of the part. The u-form system also puts parts at the perfect height for increased comfort, and keeps boots on the ground, eliminating the need to climb on the table. The simple yet elegant design and innovate roller bearing system make for quicker changeover. The use of u-forms also means a fixture cost reduction of 25% over a 12' square table fixture.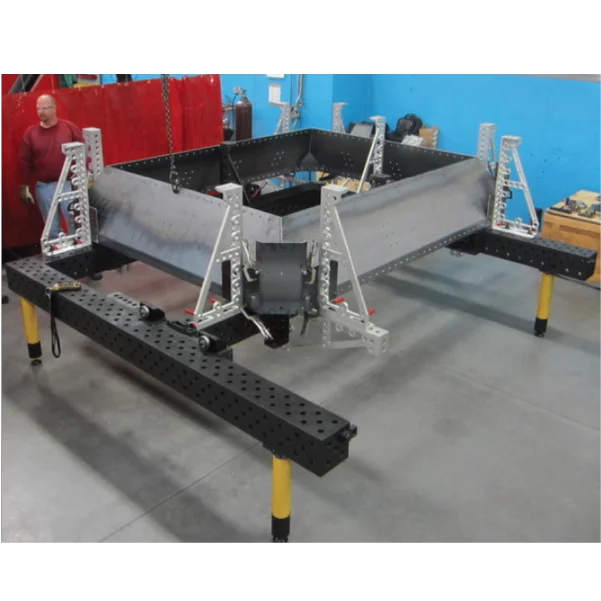 Getting Started with bluco

1. Share your challenge
Upload a description of your workholding application and a CAD model of your part to our secure online portal. Submitting your info doesn't mean you've made up your mind, it just starts a conversation.

2. Talk With Us
Within 1-2 days, an application engineer will call to set up a design consultation. We never contract out, so you'll deal directly with Bluco and communications will be kept strictly confidential.

3. Review Your Proposal
Once we understand your challenges and goals, we'll develop custom modular solutions. Then, we'll review designs as well as purchase and rental options virtually. Check out the rest of our process here.