Back to Blog
Partnership + Technology = YouMTS
Year of a Unique Manufacturing Trade Show
We provided a forum for people to come in and get a one-on-one experience with experts that are not ordinarily all in the same room,

Brian Dodsworth, VP of Sales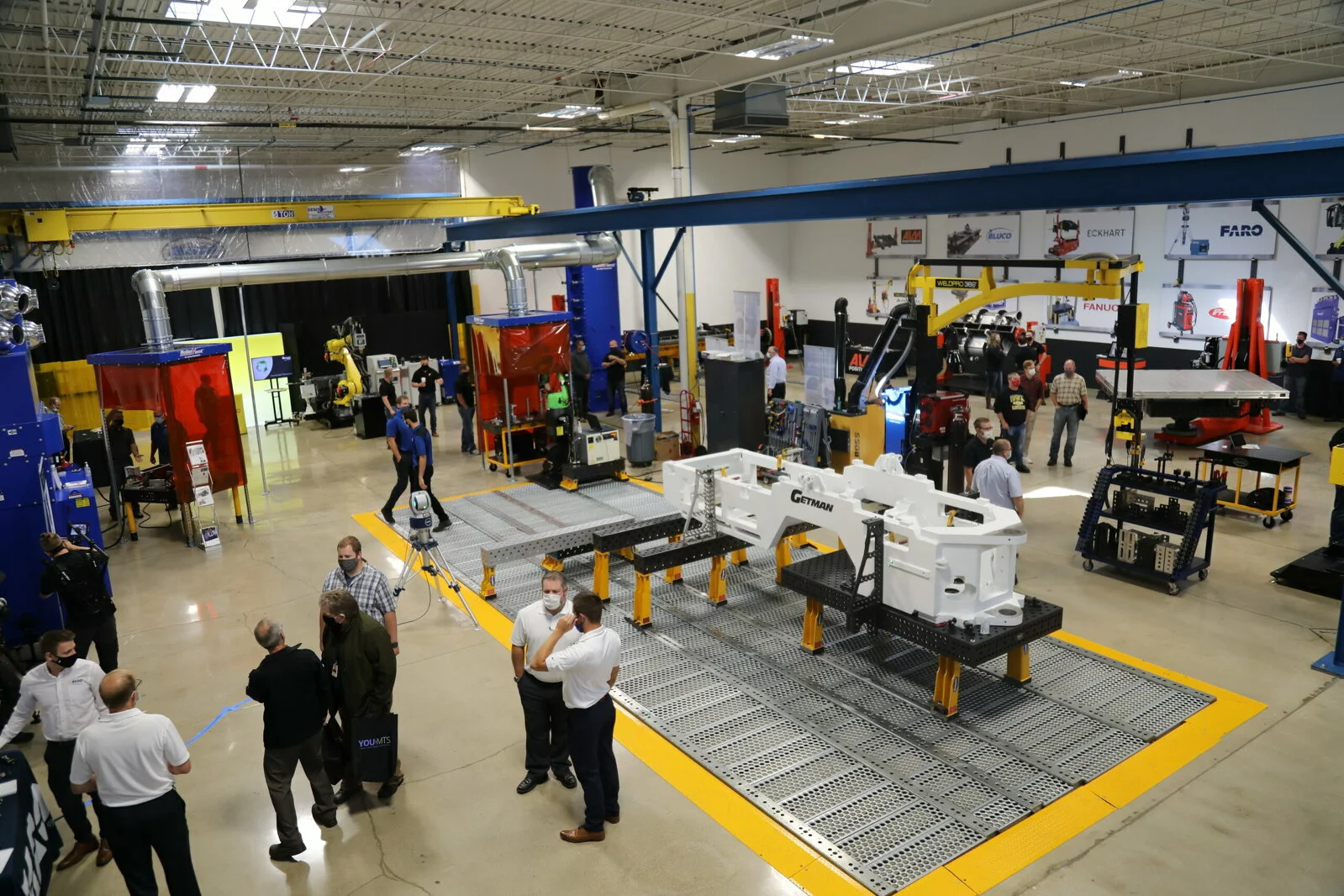 The Validation Center and Showroom at Bluco were packed with even more energy than usual as we unveiled a new take on manufacturing technology shows on September 17 & 18, 2020.
The show offered attendees a way to recapture some of what they missed when IMTS and FABTECH had to be cancelled due to COVID-19. Named the Year of the Unique Manufacturing Tech Show (or youMTS), the event brought together eight enthusiastic partner companies to showcase their technology. But more than that, it gave participants a way to connect with some of the best problem-solvers in the industry.
"We provided a forum for people to come in and get a one-on-one experience with experts that are not ordinarily all in the same room," said Brian Dodsworth, VP of sales at Bluco. "It's this collection of companies who are used to working together, who have collectively probably solved almost every manufacturing problem imaginable — and we all got to kind of geek out together and just problem-solve for our customers in real time. We got people thinking about new solutions they might not have been able to envision in any other setting."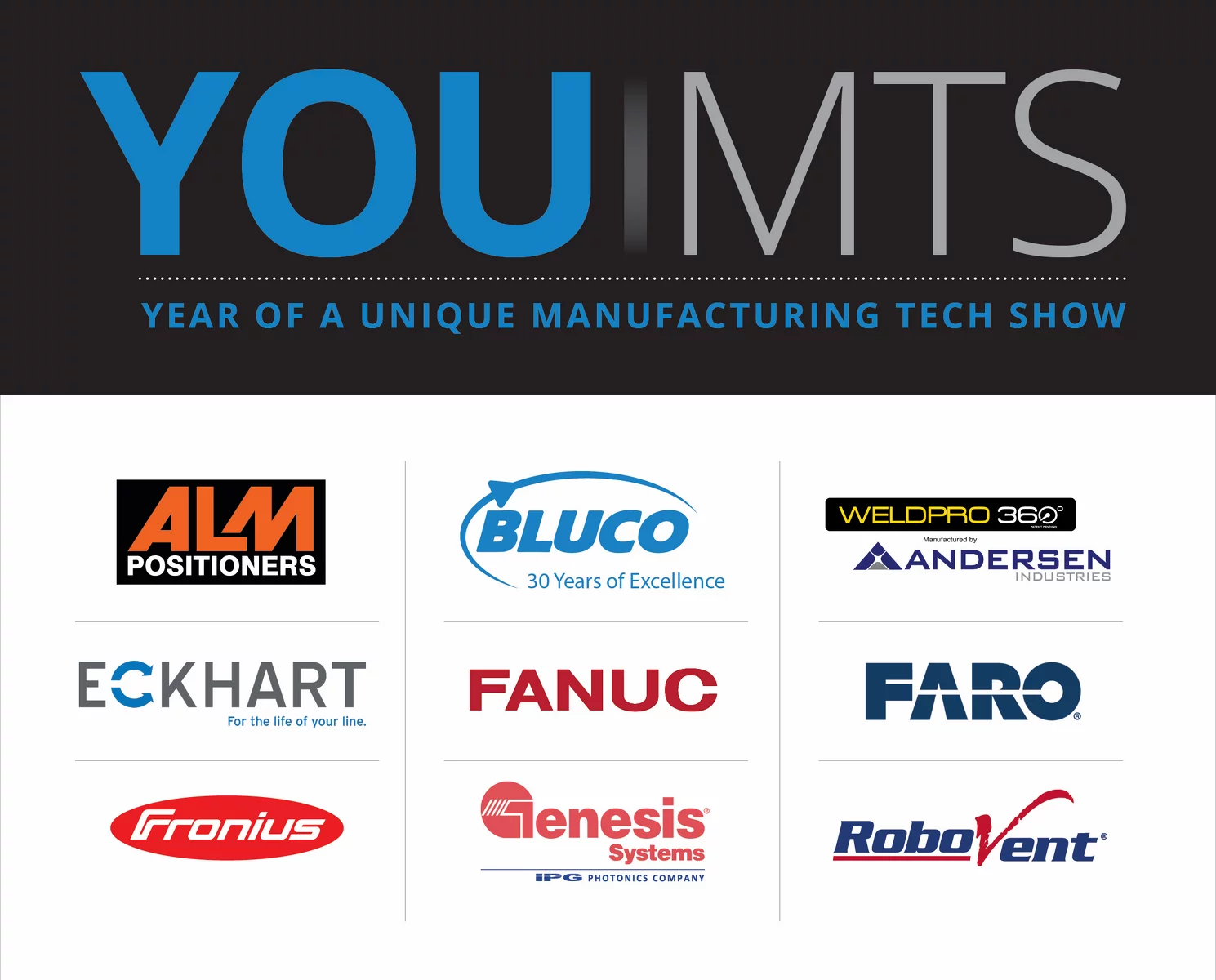 Solutions Require Combinations
Everywhere participants looked, they saw the result of powerful partnerships. A FARO laser projecting on a new Bluco 2D table mounted to an ALM headstock and tailstock positioner was just one example. "Our new 2D table is going to allow companies that need much longer runs of table space to achieve that with less weight and expense than they'd get with a 3D table," said Todd Bennett, a Bluco Senior Sales Engineer. "You add laser projection to that and now you're taking the guesswork out of where each part and each modular component go. Add the positioner and now you don't have to lift heavy parts, or climb to reach them. Now all of a sudden you've solved all your manufacturing problems with one solid solution."
In other areas of the Validation Center, attendees saw other cutting-edge combos that included new modular solutions, cobots, robotic welding, weld booms, autonomous guided vehicles (AGVs), dust collection systems, pulse welding equipment, and a variety of positioners. Take a look at just some of the examples below. And if you missed the event, don't worry…we're already planning the next one!
Eckhart's AGV Keeps Things Moving
Eckhart's AGV carrying a Bluco D16 setup around the showroom by itself, following the magnetic tape laid down for it. In an actual application, the AGV could drop a fixtured part at one welding station and pick up an empty fixture to be reloaded, eliminating downtime and maintaining a reliable routine.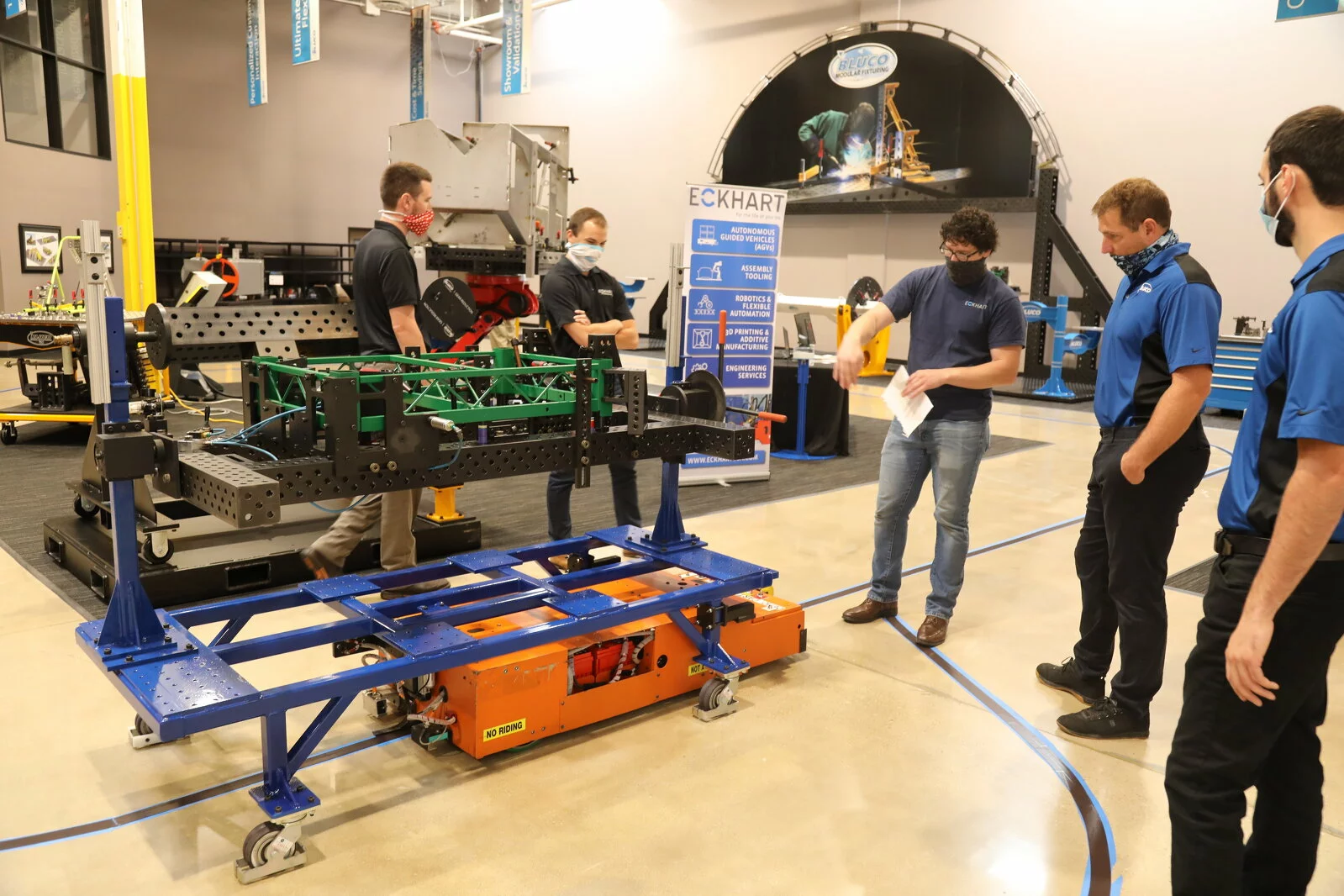 Fanuc Cobot Does the Work for You
Fanuc's cobot works seamlessly with a human operator and a Bluco workstation + modular tooling. The combination can dramatically increase efficiency and accuracy. We tried to hide it (it's light enough to move easily) so Fanuc couldn't take it back, but no luck!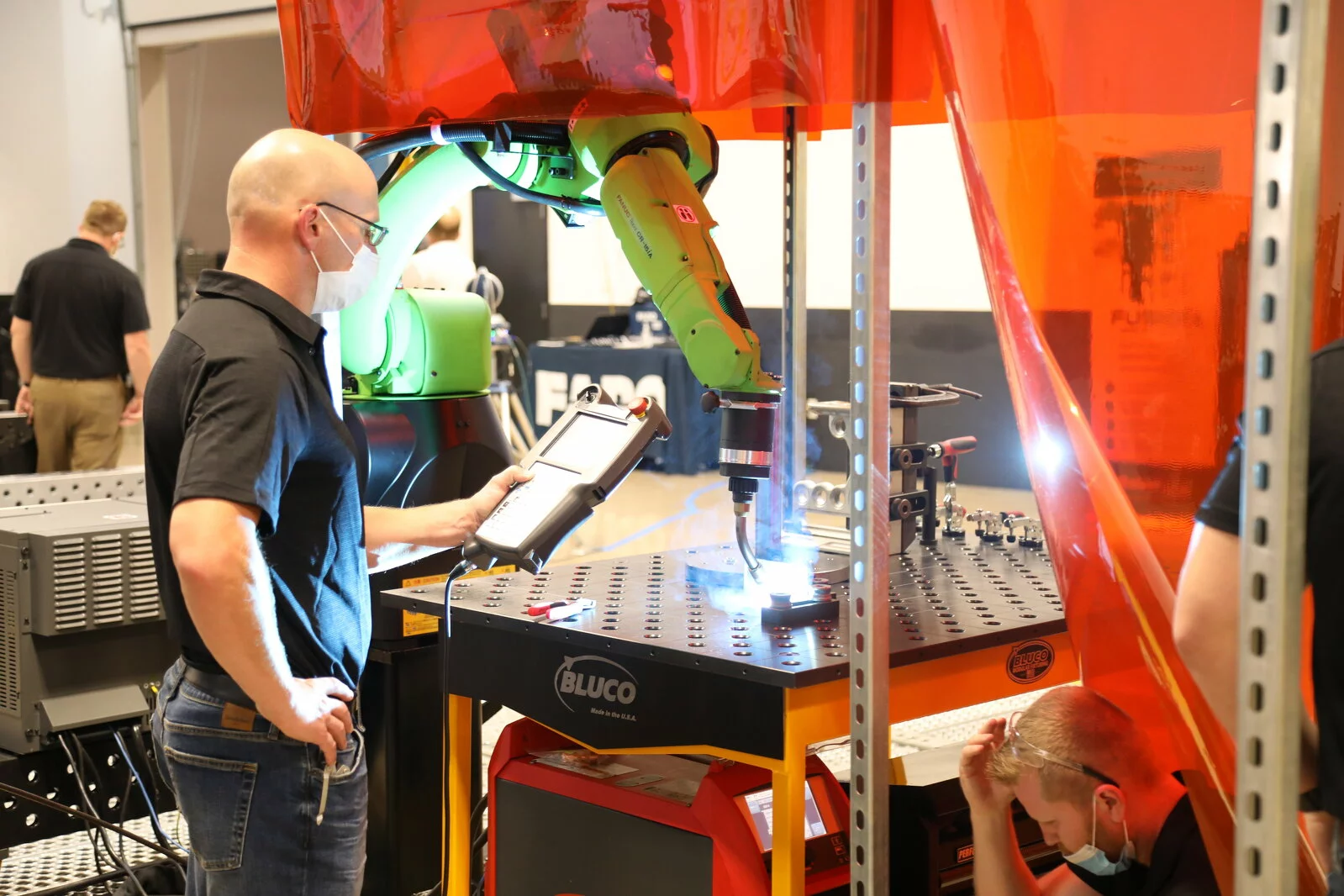 Genesis Teams Up with Fanuc for a Robotic Win
Genesis Systems laser seam stepper and a Fanuc robot arm combine to optimize productivity and reduce the cost of consumable changeout. This cutting-edge system offered attendees a look at a new standard for precision.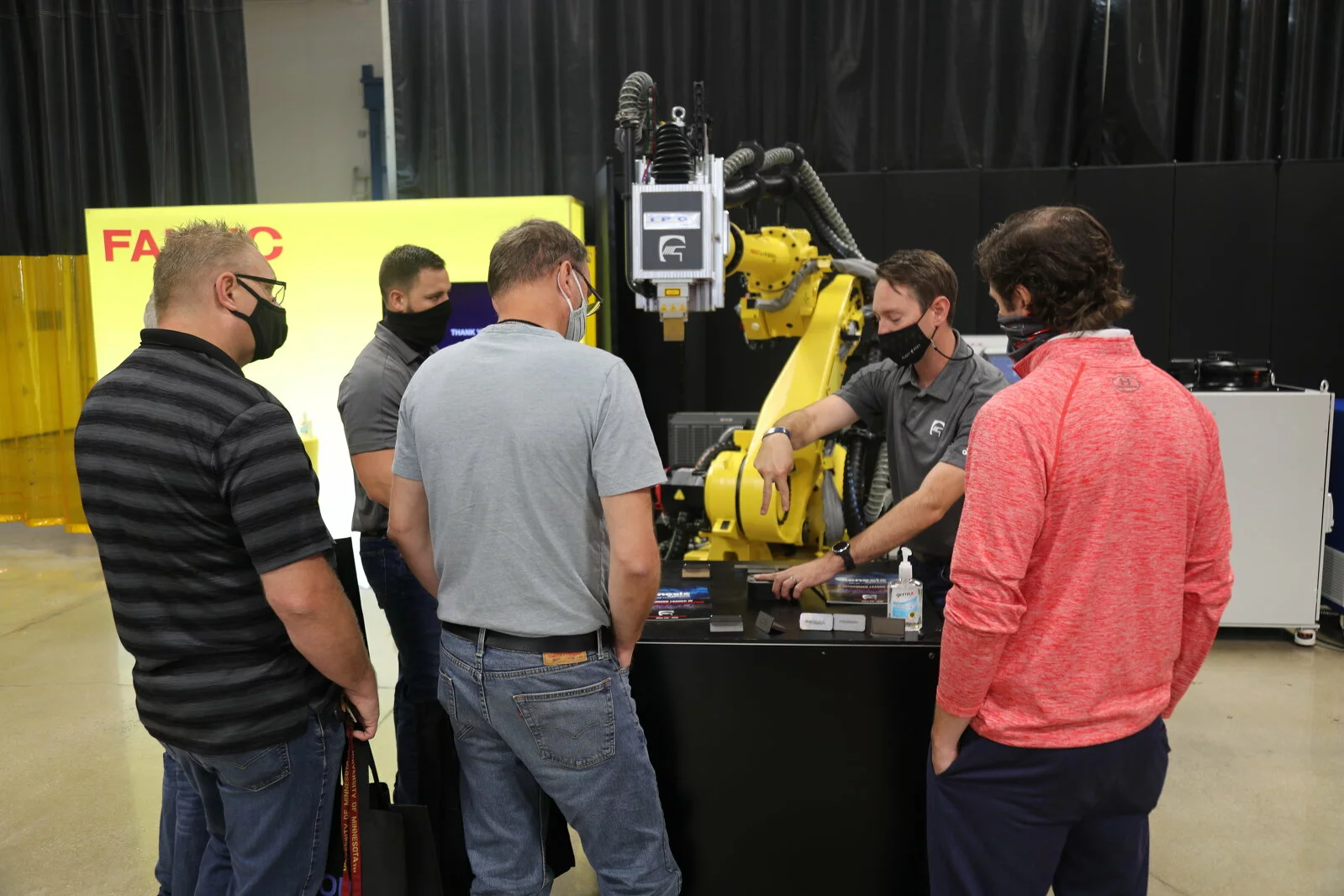 Fronius Makes Welding Look Easy
The Fronius pulse welding system — powered by Weldstar's gas cylinders and assisted by Bluco modular fixturing — promises 70% less rework. We can attest to that, as both our CEO and our creative director put on a welding helmet and produced fairly decent welds the first time out.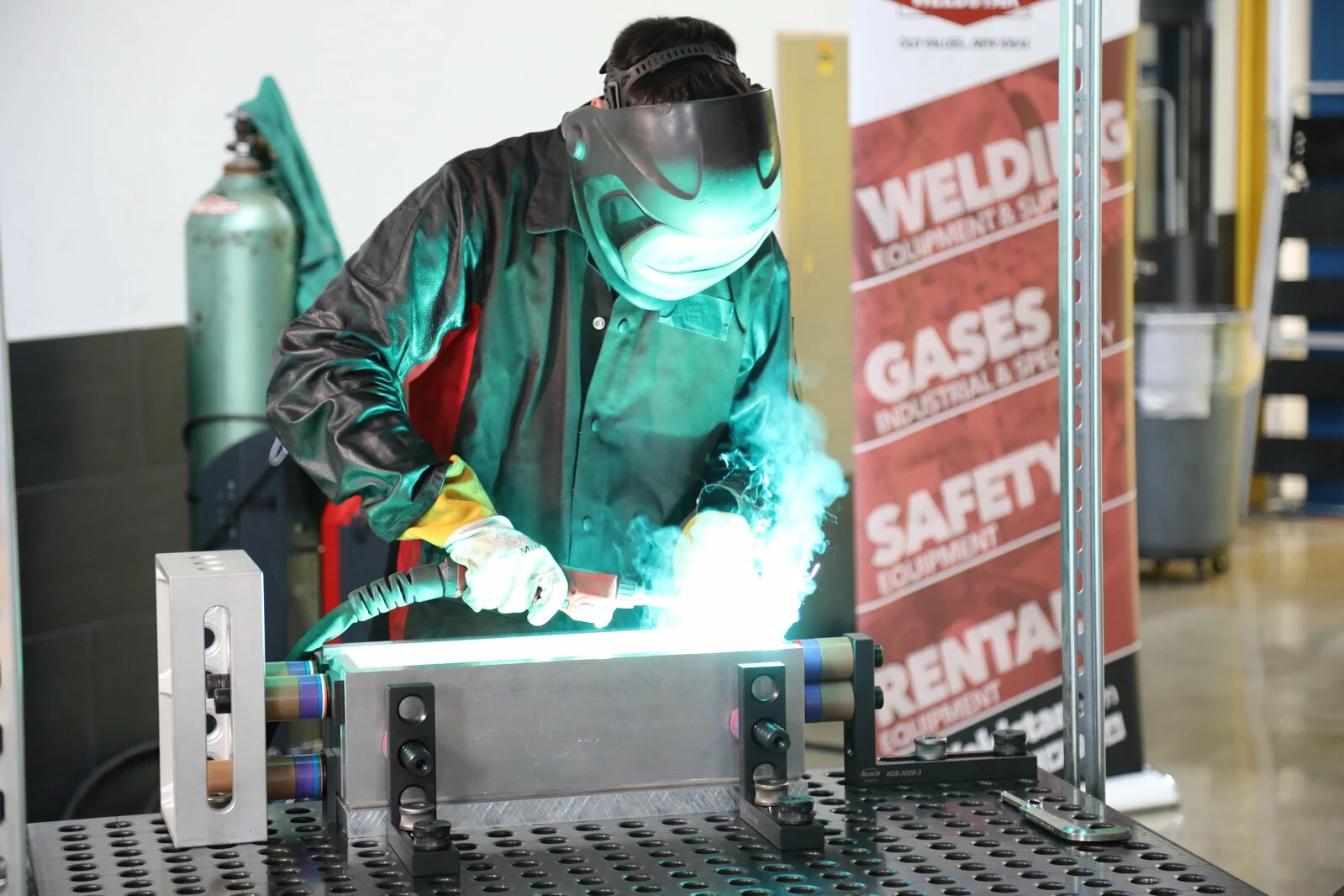 No Matter Where You Go, Your Welding Supplies Go With You
The Andersen WELDPRO 360 boom attracts visitor attention with its ability to put all welding related equipment right on the boom, for un-tethered 360° rotation that gives total coverage of any welding area. Bluco uses WELDPRO booms in the VC and in the shop.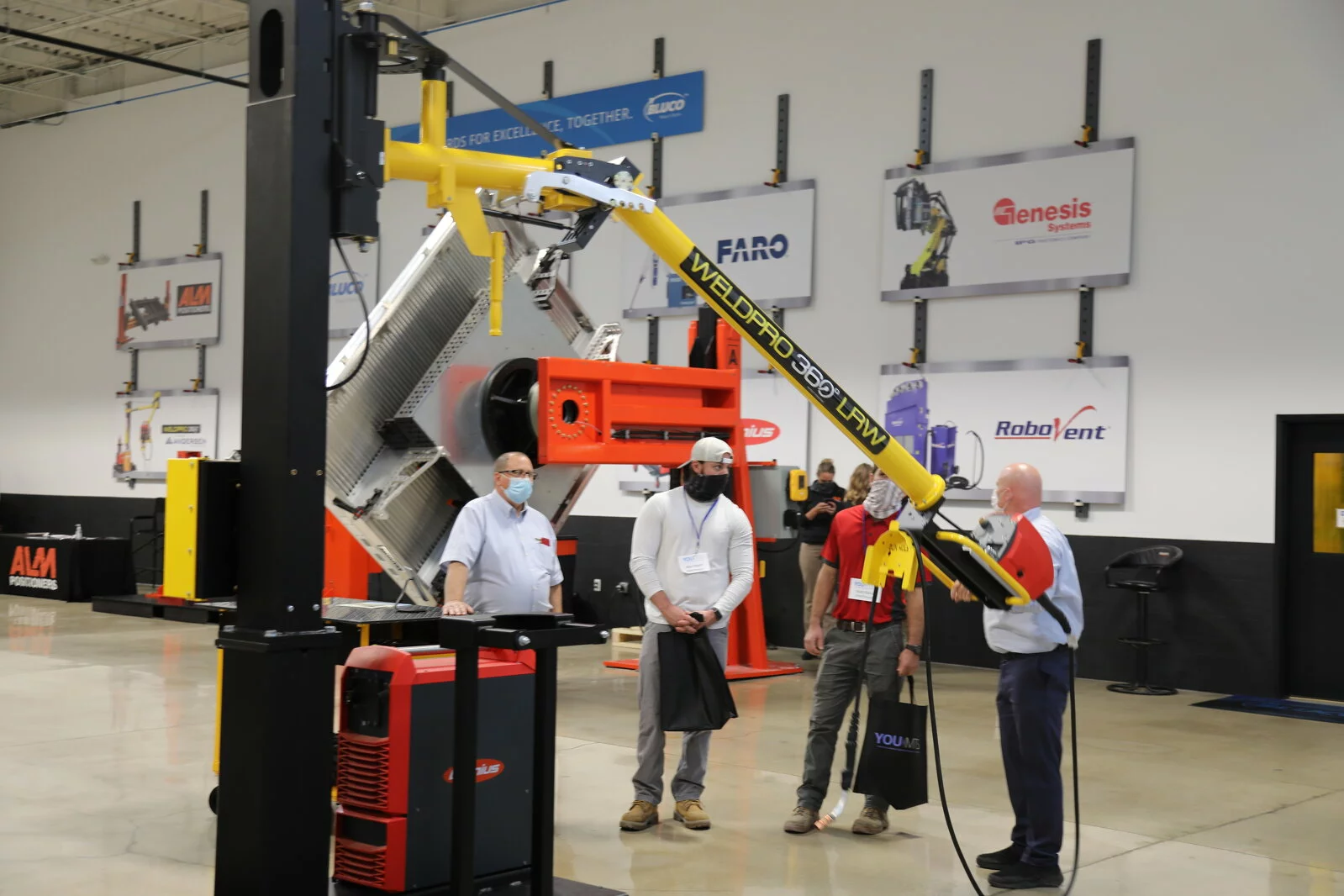 ALM Skyhook Does the Heavy Lifting
Combine the three-axis motion and 12,000 lb weight capacity of an ALM Skyhook with the versatility and strength of a Bluco 3D table and modular fixturing, and you get a Knapheide truck flatbed that was spinning and flipping like a slow-motion gymnast for most of the show!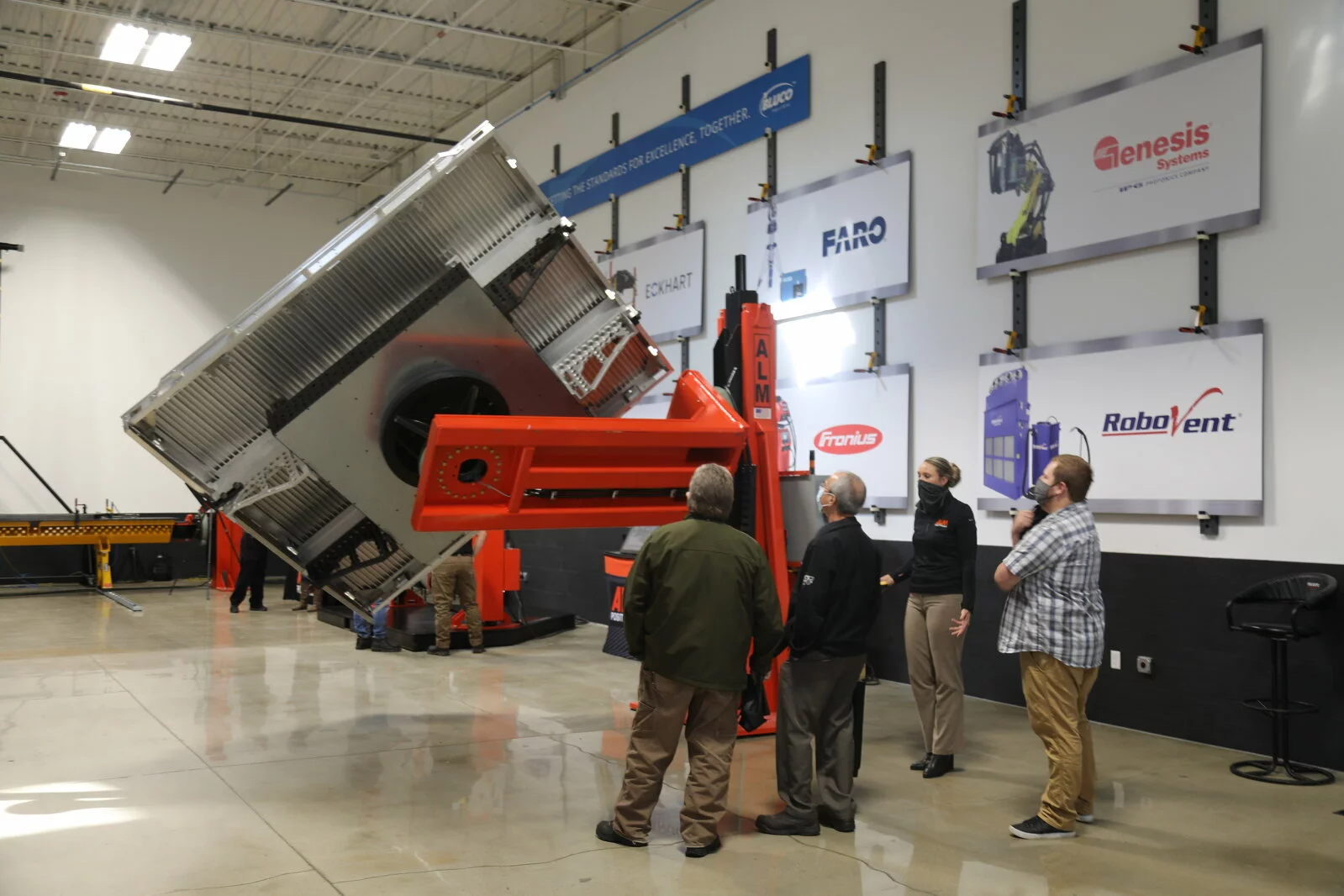 FARO Makes it Easy to Measure Twice and Weld Once
Faro laser tracker finds its target atop a part mounted on a Bluco custom welding table and rail system. This combination makes it infinitely easier to achieve welding accuracy and efficiency on this 10,000 lb mining car frame.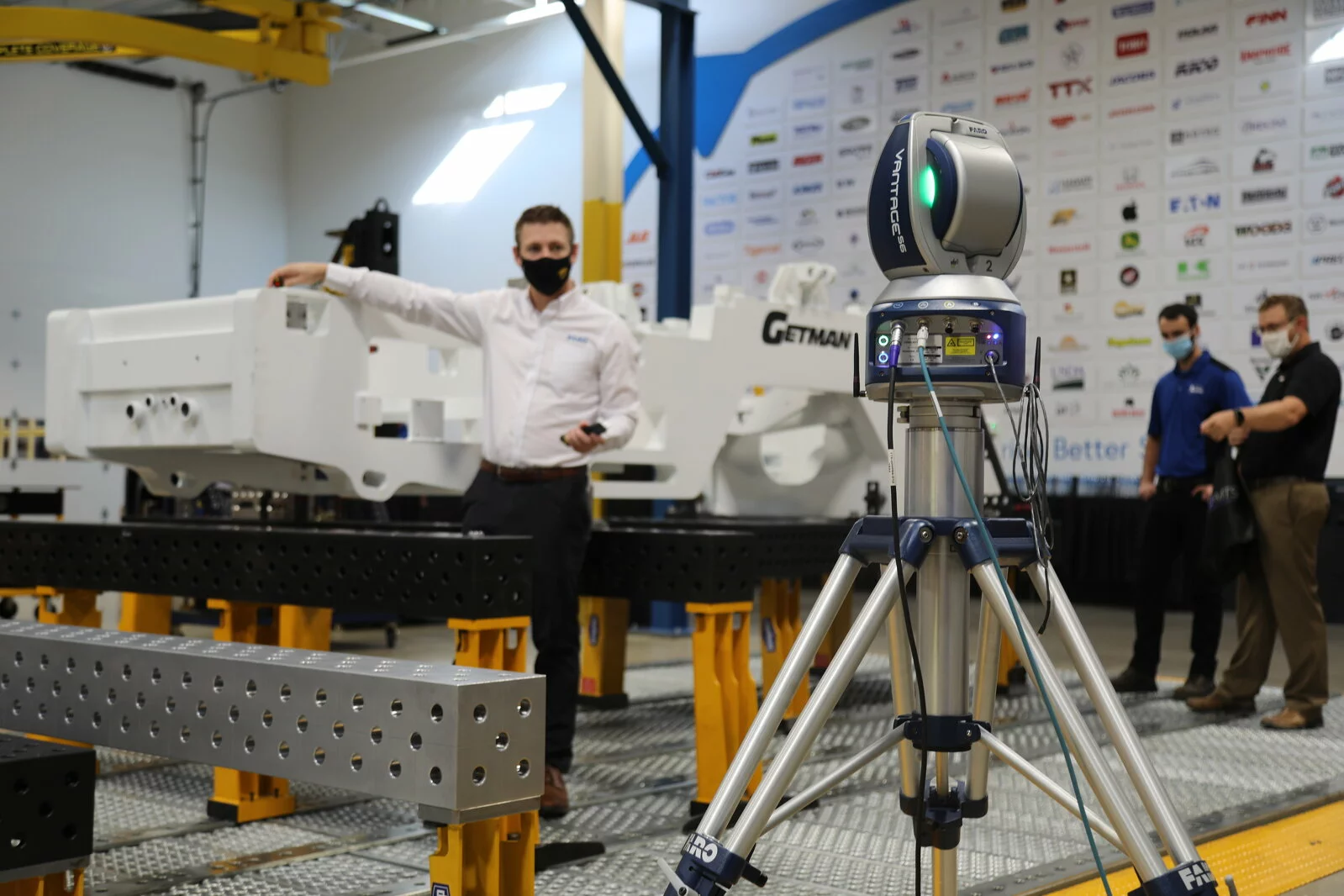 RoboVent Clears the Air
RoboVent Spire kept us breathing easy by collecting fumes from the Fronius welding station and the Fanuc cobot station set up for youMTS. The Delta3 inline spark arrestor atop the Spire put our minds at ease by controlling sparks.
---

Thanks to all who attended! We'll keep you posted about any upcoming in-house events.
---