Back to Blog
Creating an Industry First
The Story Behind the First Complete Line of Modular Fixturing for Machining Extra-Large Parts
We wanted to design and scale based on a tried-and-true method – because if it works for small parts, it will absolutely work for big parts too.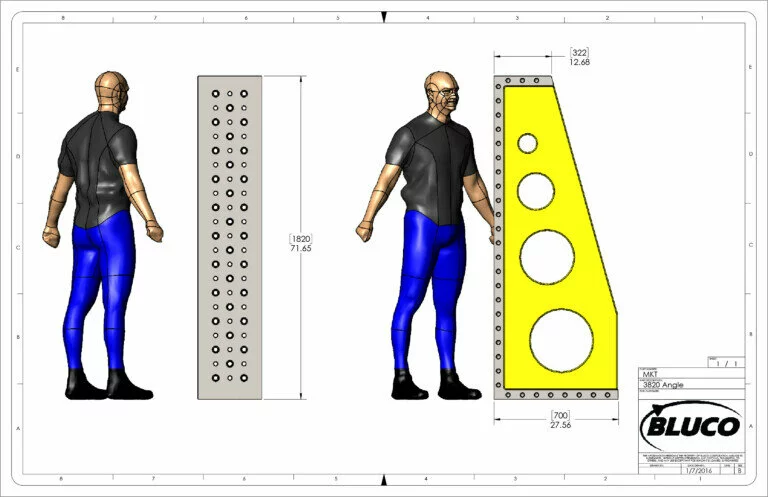 A Big Idea
Our customers have come to know the flexibility of our modular fixturing systems for machining as one of its biggest advantages. The ability to fixture any part for — regardless of size or shape — is part of what makes modular fixturing unique. It's the go-to solution for manufacturers that want to gain a competitive advantage by achieving greater speed and efficiency without compromising accuracy.
Yet, when it came to fixturing massive parts like the chassis of a mining truck or the hull of an armored vehicle, CEO Scott Ellig and Senior Engineer Garrett Gordon found themselves imagining a larger system.
"You can absolutely hold huge parts with a kit of standard size modular components," says Ellig. "But there are important benefits to using larger components to hold larger parts." A bigger system requires fewer components to do the same job, which reduces fixture set up time. And because of the sheer size of the system, it becomes easier to visually identify that each component is placed correctly.
In fact, the more we thought about it, the more the entire Bluco team began thinking about the "what if's" around creating a line of extra large fixturing. Having designed fixtures for companies in the agriculture, mining, locomotive, oil & gas and defense industries we knew there was a need. "We wanted to see if we could help companies fixture more efficiently and achieve even greater machining accuracy with a solution made to a scale that fit those parts," says Ellig.
Concept Becomes Prototype
In 2015, our team was asked to design machining fixtures for a variety of large parts by a defense contractor. "They were interested in using a larger system and asked if we had one. That was the push we needed to get started," says Garrett Gordon. To do this right, we'd have to design and manufacture it ourselves.
Gordon says he began from square one. "Our first discussions in-house were around, 'if we're going to do this, what would the scale be, what bolts would we use, what does it even look like?"
Our team decided to use one of our current fixturing systems as the base for the new design. "We wanted to design and scale based on a tried-and-true method – because if it works for small parts, it will absolutely work for big parts too."
So the team started with Bluco's 4012 system and doubled its size and specifications. That meant 80mm spacing between the centers of 24mm holes…which explains where the new system gets the "8024" designation you'll soon be seeing on our website.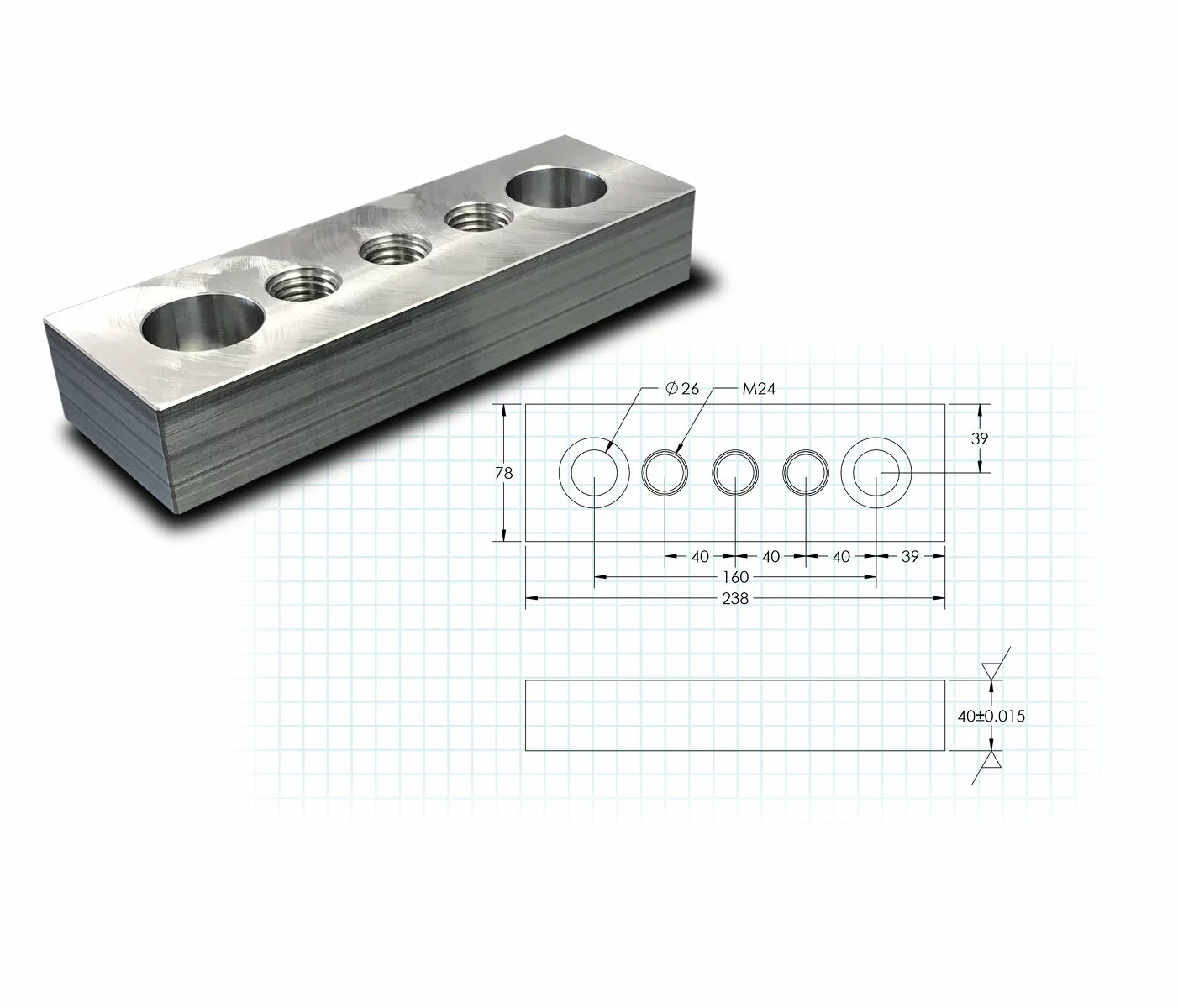 The next stage was to start designing components in CAD. The first actual prototype was cut in October of 2016. "Then it became real. Drawing it in CAD was one thing, but you have no frame of reference for how big that component really is until you see it made out of steel sitting next to the other pieces, and get a feel for how heavy it is when you physically pick it up."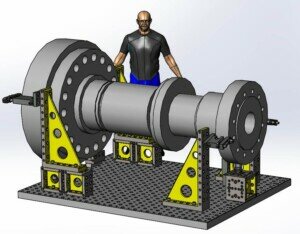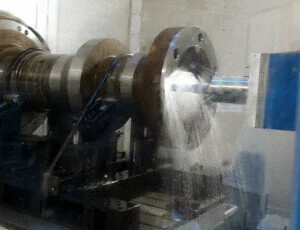 Taking the 8024 from CAD concept to reality involved extensive research and development of prototype components in real world machining scenarios. This part weighs 20,000 lbs and is fixtured with four 900mm (3 ft) Angles and five 280mm (11 in) Console Blocks. Each Angle weighs 110 lbs, each Block is 103 lbs.
A Big Solution That Offers Even Bigger Benefits
From there, our team continued extensive R&D on each and every component. "This is Bluco, so we won't release anything until we know it's the absolute best it can be," says Gordon. And making it the best it could be meant perfecting every millimeter of every one of the 120 extra large components that we'll offer. "There's really nothing out there to compare to – no template that we could lean on or look to. We're breaking new ground here, and for manufacturers of large parts, it's going to give them advantages that they can't get anywhere else." Here's a snapshot of just a few of those benefits: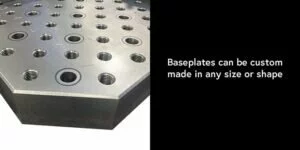 Accuracy: The system's tolerance is +/- .0006" and each part is precision ground for consistency
Rigidity: Heavy pieces allow you to reliably clamp against a single component
Flexibility: One kit of extra-large modular components can be used to fixture multiple parts
Efficiency: Larger parts mean less components and faster fixture building
Customization: Baseplates made to fit any machine bed (mitered corners, custom profiles and multiple mounting options available)
Repeatability: Modular fixturing gives you the same results every time, from every machinist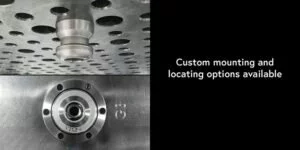 Bluco manufactures a large portion of the new system's components, including the baseplates, in-house and to exacting standards. "We're in the process right now of building up a stock of every component. We already have interest in the system, so we're gearing up to handle whatever our customers need," says Ellig. "It's exciting to see it all coming together and to see our shelves filling up with parts. Each one is a puzzle piece that's going to be part of a solution for our customers. And you can't help but to start imagining those solutions as you walk down the rows of parts. It's awe inspiring to think of what's going to be made with this fixturing," he says.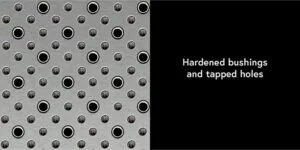 A Game Changer
Prior to the design of this system, the only fixturing option that manufacturers of large parts had was to use smaller tooling or to custom-build something. "Some manufacturers just put the part on the table and shim it to align it to the machine as best they can," adds Gordon, who describes the old process like this:
"Working without fixturing like this is time consuming. It could take a whole day just to get it set up. Generally, you know how to get it close. You bolt it in, check it on the machine to see where you're at and then tighten it all back down, check it with the machine and repeat. It's this back-and-forth process of tramming and adjusting until you finally get it all dialed in, and then that ONE operation is ready to cut. If you have two or three operations, that's a lot of fine tuning when you should be making chips."
The new extra-large modular fixturing system eliminates this entire scenario. "One of the biggest benefits of our fixturing is set up time. If the fixturing is good, you know you can put a huge part in there and it's going be where it should be every time," explains Gordon.
For machine shops relying on tribal knowledge to get a part made right, standardizing the process is a huge bonus. "Without standardized fixturing, you need experience loading a very large part onto a machine every day to really master it," says Gordon. "Those are the guys that can tell you 'ok, I need to put .050" shim on this side and .060" on this side to compensate for this table, and then I'll adjust from there.' And they know the clamping sequence and which way it will pull the part. So there's this tribal knowledge you're relying on, versus fixturing where you can just put something up there and know it's good."
The 8024 system will provide the comfort of knowing that anyone you put on the machine can produce the same result. "Our fixturing is comparable to a well-written program. If you have a reliable program, and you run it as it's intended, the part will come out right. It's the same thing with fixturing: set it up as intended, and the part will come out right. There's a great deal of comfort to be gained from that," adds Ellig.
Design Services Make the Difference
Of course, the new system will come with the signature design services offered by Bluco fixturing specialists. And Gordon and his team are no strangers to solving tough fixturing challenges of all sizes.
Most recently, he had a customer ask for a fixture design for a large S-shaped cast pipe with a tight bend. "The original drawing for the part was made in the 1960's, so they were set in their fixturing ways. But they already owned a Bluco solution, so we showed them a fixture that let them machine both ends at the same time, so they could finish it in a single op, versus their old method of machining each end independently in two operations."
Gordon says that often times, providing an example like this helps companies to move forward. "It helps them start thinking of parts in that modular way, and to begin to understand how to build a fixture that's better than the traditional one they had, using the modular components they already own."
For companies that manufacture large parts, the design services that come with a modular solution can be just as important as the modular components themselves. With over 30 years of fixturing experience, we've fixtured thousands upon thousands of parts. Among them, very large parts in industries that will want to take note of this new system:
Energy
Transportation
Aerospace
Mining
Heavy equipment
General manufacturing
System Launch
The 8024 System was introduced in the fall of 2021, and offers a full array of precision modular components, from 2mm spacers to 6000mm baseplates and 1,800mm angles.
"The system enables manufacturers of even the largest parts to eliminate bottlenecks that commonly occur when a part goes to milling," says Ellig. "You eliminate all the extra time it takes to set up a large fixture, and that means you can start decreasing downtime and increasing productivity. Those are efficiencies that haven't been that easy to access for those making large parts before. And unlocking that access with this system," he says, "is exactly what we were hoping to achieve."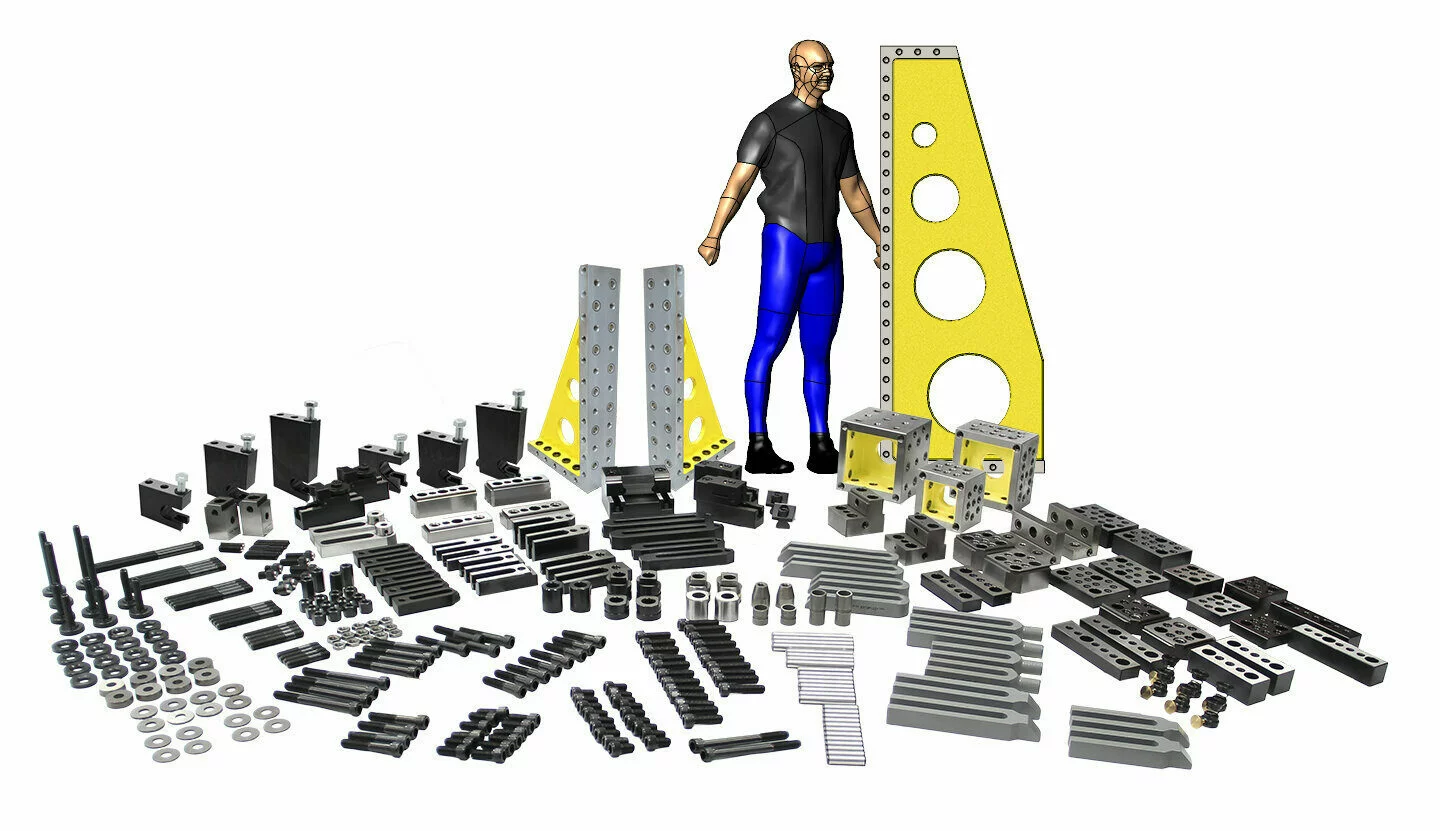 "You eliminate all the extra time it takes to set up a large fixture, and that means you can start decreasing downtime and increasing productivity. Those are efficiencies that haven't been that easy to access for those making large parts before. And unlocking that access with this system is exactly what we were hoping to achieve."

–SCOTT ELLIG, BLUCO CEO