Back to Blog
Changing Things Up For the Better at FABTECH
We found a way to bring 1000's of modular solutions to FABTECH Booth C12417, Nov 8-10
The most meaningful thing we can show manufacturers is not what we can put on a welding table. It's what challenges we can take off their plates.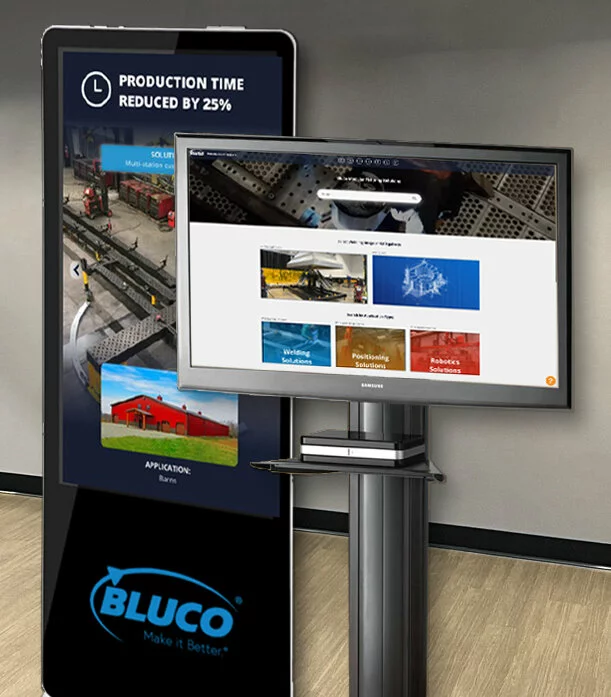 How many trade shows have you been to in your career? How many booths have you walked past and through? We bet it's more than you can count. Booth after booth of machinery, brochures and free tote bags. One after the other until they all start to blend together, your feet ache, and all you can think about is grabbing a $10 slice of mediocre pizza from the food court just so you can sit down. We know. We've been there.
Which is why we're going to change things up at FABTECH.
This year, displays of modular equipment will NOT be the center of our booth. Not only because you'll see so many booths packed with so much equipment that your eyes begin glazing over, but because it's not the center of who we are.
"The most meaningful thing we can show manufacturers is not what we can put on a welding table," says Bluco Sales Director, Brian Dodsworth. "It's what challenges we can take off their plates. That's what we want to bring to life in our booth."
If you know us, you know we're problem-solvers. We're engineers who've been designing modular solutions for over 30 years. And THAT – the problem-solving we've done and will do ­– is at the center of the experience we've created for FABTECH.
We'll use interactive visual displays led by the application engineers who have (and we may be biased here) truly fascinating stories to tell.
So What are We Bringing to FABTECH?
In a word: everything. The difference is, we're bringing it in the form of digital pictures and stories. The entrance of the booth will feature two interactive kiosks that showing a highlight reel of mini case studies. Visitors will get a glimpse of some of our favorite modular solutions and the original designs they came from.
Inside the booth, we'll have three large interactive monitors where application engineers will lead visitors through a tour of modular solutions that will be personalized in real-time to match their specific interests, challenges, applications and industries.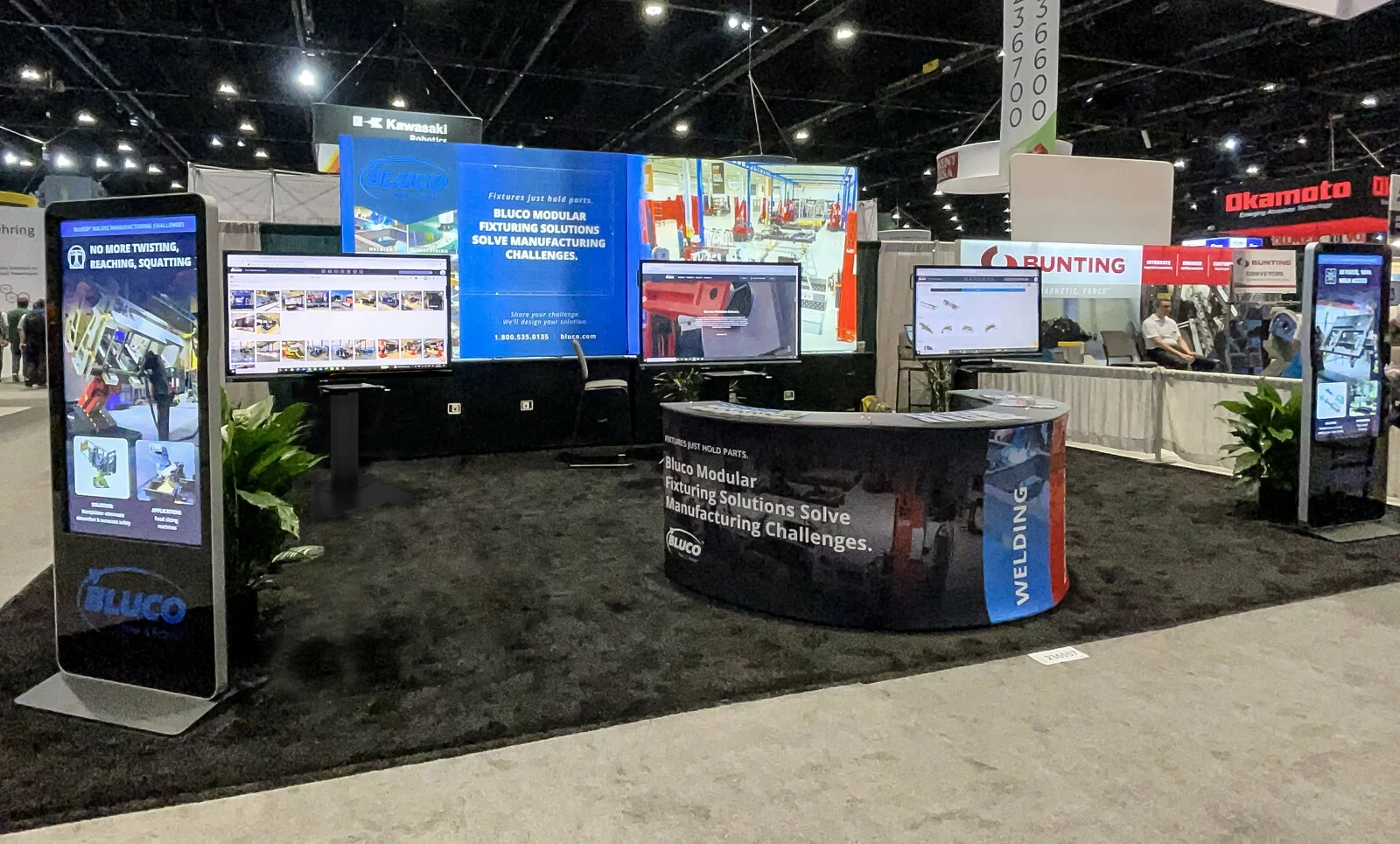 Creating an Experience Bigger than a Trade Show Booth
"The monitors, and the interface we've developed for them, remove all the limits that you'd normally have at a trade show," says Dodsworth. "You can't fit a six-cell robotic solution, a 300-foot long floor rail system, and a custom vertical setup with 15-foot u-forms all into one booth. With the monitors, we can take you there. We can show you any project we've ever worked on," he says. Even better, our application engineers can tell the stories behind those projects.
And we've got stories – over 30 years' worth of them.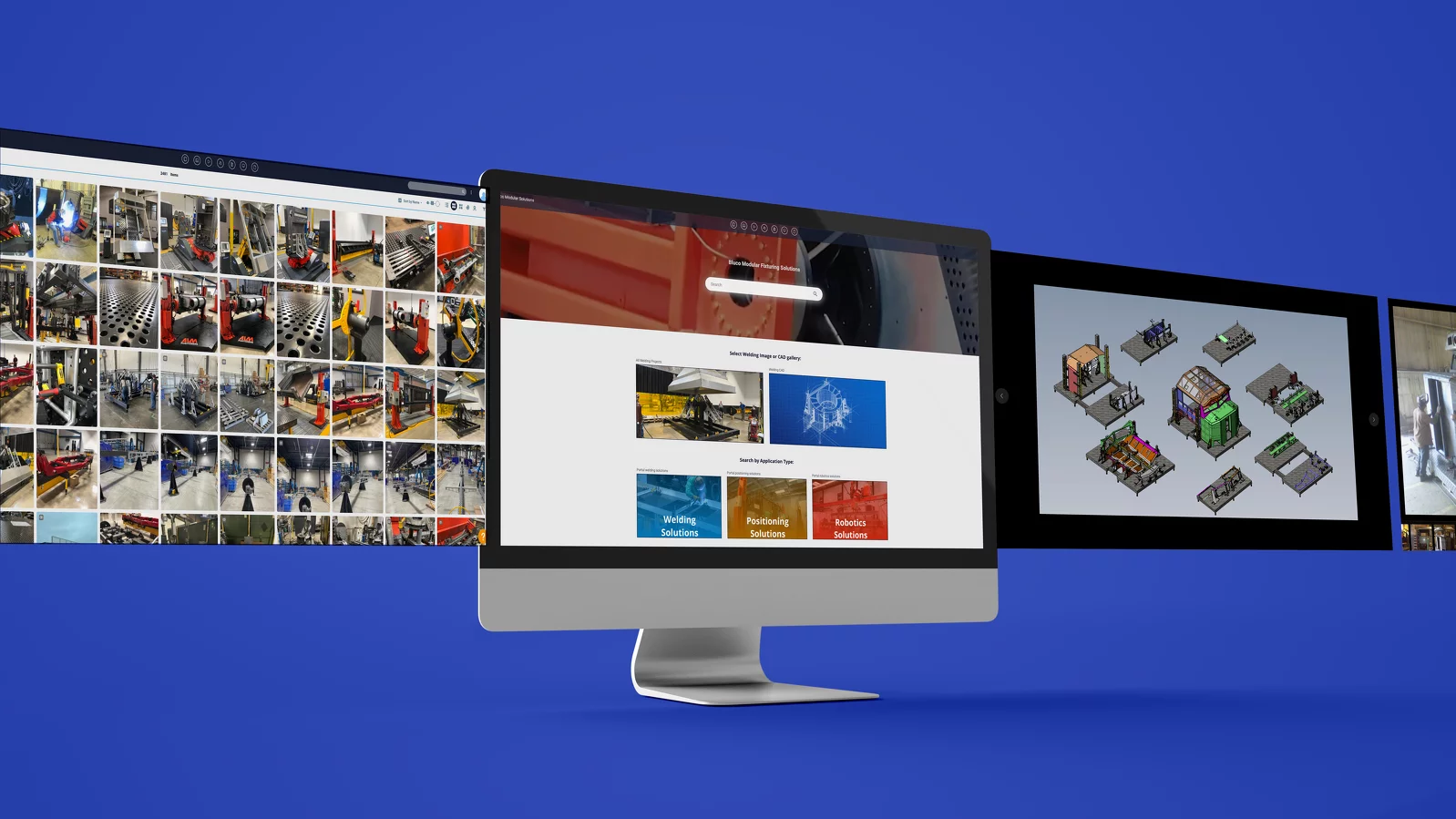 Want to hear about the solution we designed for welding a ten-ton, twenty foot long, bronze-sheathed bird statue? Just ask.
Or the time we took the established process for building a train car and literally turned it inside out to shave a week off production time? We're ready to share.
How about the time we figured out how to fixture an infinite variety of part lengths on one fixture by custom-machining a modular component designed just for this one project? Been there, done that.
This new trade show format will allow us to show you any solution and how we got there, from the original CAD drawing to the installation and implementation. As you talk with our engineers, it's all at their fingertips, able to be called up with a tap on the screen.
Beyond the Show
While the show will provide a glimpse of what we do, it will also open the door to future conversations. To help facilitate that, our engineers can do an instant digital transfer of not only their contact information, but links to useful modular resources. Among those resources are links to our 80-page modular solutions guide and contact information for our value-add partners.
Of course if you can't make it to the show, you can still reach out to us via our Contact Us page for general questions, or through our Request a Proposal page for project-related inquiries. If you are going to the show, please stop by our booth. Let us know what you're interested in seeing, and we'll take you there.