Back to Blog
Bluco launches new engineering design services
"Engineering Design Services add another layer of functionality to a modular purchase. You have a solution that's already improving efficiency and accuracy, and you're adding a way to keep going — to achieve even more."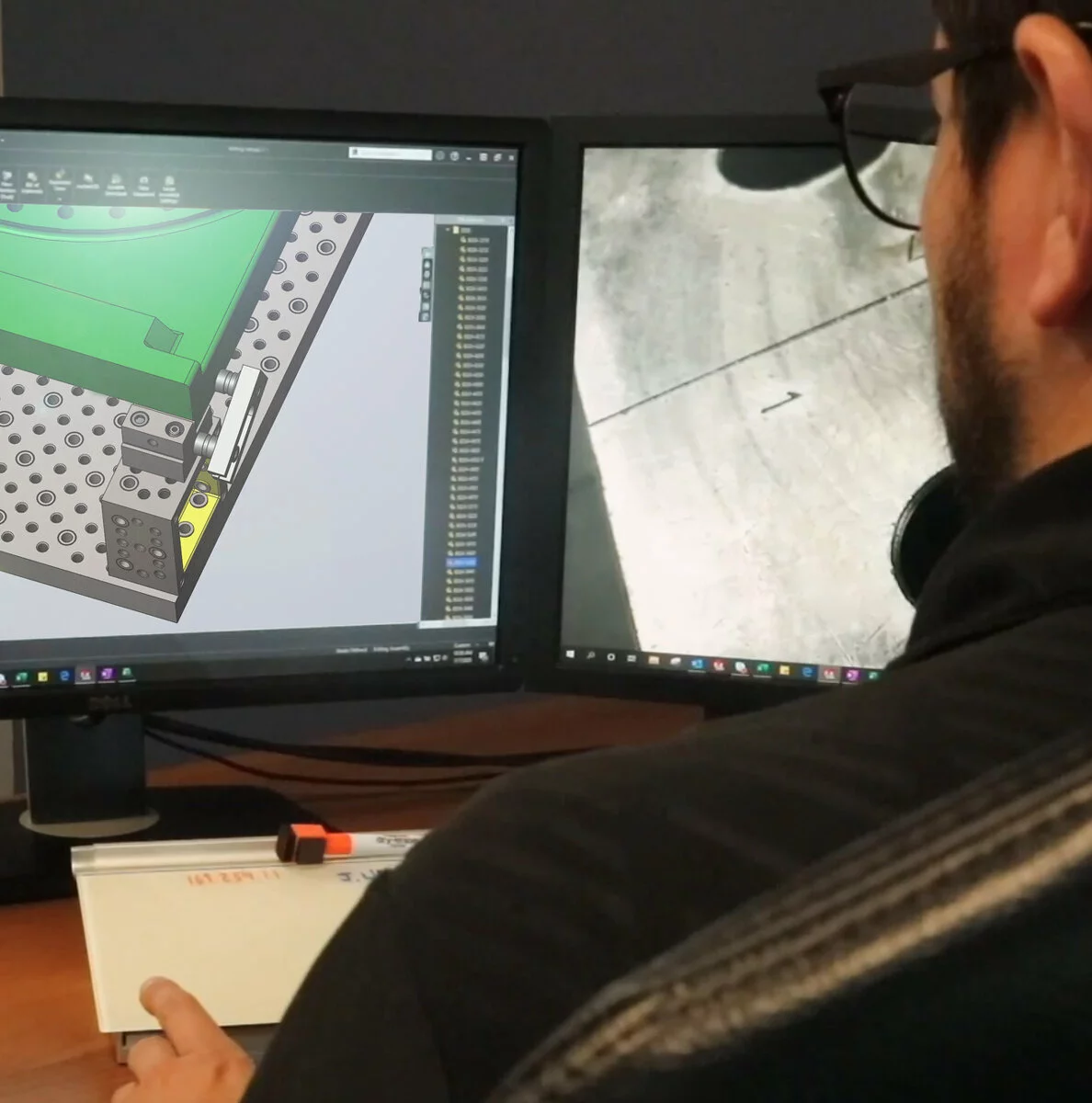 If you're a Bluco customer, we've got good news for you: we've just launched our Engineering Design Services (EDS) to provide you with the ability to get additional fixture designs for your existing modular system.
It's another way to tap into our 30+ years of modular problem-solving expertise to maximize the inherent benefits of your modular system including faster setup times, improved productivity and better final part quality.
If you're not a customer yet, keep reading.
The brains behind our EDS service are the same ones that will be creating your initial fixture designs, and it's worth exploring how the process works. It's also worth noting that this is a service not available anywhere else, and it just might be one of the many reasons you decide to seek Bluco out.
How It Works
"Bluco's design process has always started with the customer providing us with CAD models for several of their parts. The fixture design for those parts is included in the initial purchase. That part of the process remains the same," says our Sales Director, Brian Dodsworth. "What Engineering Design Services offers is a way to generate additional fixture designs out of an existing modular kit."
The fee-based service is an ideal value-add for companies without an internal engineering department, or for those that have exceeded their internal design capacity.
"Before, you had access to our CAD library of modular components, and you could go in and grab what you needed to design fixtures yourself," says Dodsworth. "That's still an option. But now you can also have our application engineers design additional fixtures for you. They've got insight that comes from working with modular solutions in the field, and they use that insight to our customers' advantage."
A Unique Offering in the World of Fixturing
Once designed, manufacturers can build and rebuild modular fixtures much faster than traditional ones. But many would rather leave the initial design to Bluco.
Since we started offering modular fixturing in 1990, we've approached modular problem-solving in a way that eliminates design anxiety. "We don't just hand customers a catalog and ask them to figure it out," says Dodsworth. "Our approach is all about developing a partnership with our customers — they know we're in this together. Our job really isn't done until our customer succeeds."
Engineering Design Services is a natural extension of that philosophy. What started as simply the best way to do business has become an important part of the advantage Bluco modular fixturing delivers for its customers.
Engineers See Proof of the Benefits of EDS
The official EDS offering is supported by a full staff of experienced application engineers. Senior engineer Josh Hill has seen firsthand how Engineering Design Services can have an impact for our customers.
"Out of the gate, you're already getting increased efficiency and accuracy out of modular fixturing. When you add EDS, that's when we start to see a 'wow factor' — customers who are cutting production times by weeks, or reducing rework by huge percentages. It even wows us sometimes, the improvements we can achieve," Hill says.
He had one recent customer who took production time on an 18-foot oil pan from one month to two days. "That's what our design services do, because we're addressing fixturing, which then impacts the process. You multiply those two factors together, and we've seen improvements that are exponential," adds Hill.
Part of the reason EDS is able to deliver such substantial improvement is that Bluco engineers are able to make suggestions for additional pieces or components that customers may not even be aware of.
"Once you've got a modular solution, you're going to naturally think about ways to just rearrange what you've got. That's a perfectly effective way to go sometimes. But there are situations when we can suggest adding a rail system, a positioner, or even a laser projection system, and now you're not just fixturing for the sake of holding a part. Instead, we're fixturing to remove obstacles that were holding you back,"

– JOSH HILL
Customers Get More Out of Their Modular Solutions
EDS provides customers with the peace of mind that they've not only made a wise investment, but that the investment can continue to pay off in new ways down the road.
"Engineering Design Services add another layer of functionality to a modular purchase," says Dodsworth. "You have a solution that's already improving efficiency and accuracy, and you're adding a way to keep going — to achieve even more. It's really a powerful tool."
In addition to offering Engineering Design Services after purchase, Bluco ensures that the modular journey is as effortless as possible from start to finish. Customers can explore modular solutions in our Showroom, or prove out a solution in our on-site Validation Center. Initial fixture designs are developed quickly and proposals can be reviewed virtually.
Bluco also helps customers to set up or install any new solution, and offers free on-site training. All Bluco Modular solutions are covered by a Limited Lifetime Warranty that covers repair or replacements, as well as an Exchange Program and lifetime upgrades that keeps you current with the latest in modular innovation.