Back to Blog
Top 5 Ways Modular Workholding for Machining Helps You Make it Better
Are dedicated fixtures and open setups throttling your potential? Unlock success with Bluco Modular Solutions for CNC Machining.
How you hold your work matters — it's the first step of every job, and the foundation of everything else that happens at your shop. So even if that step is taking mere seconds longer than it needs to, it adds up, potentially slowing down your whole operation.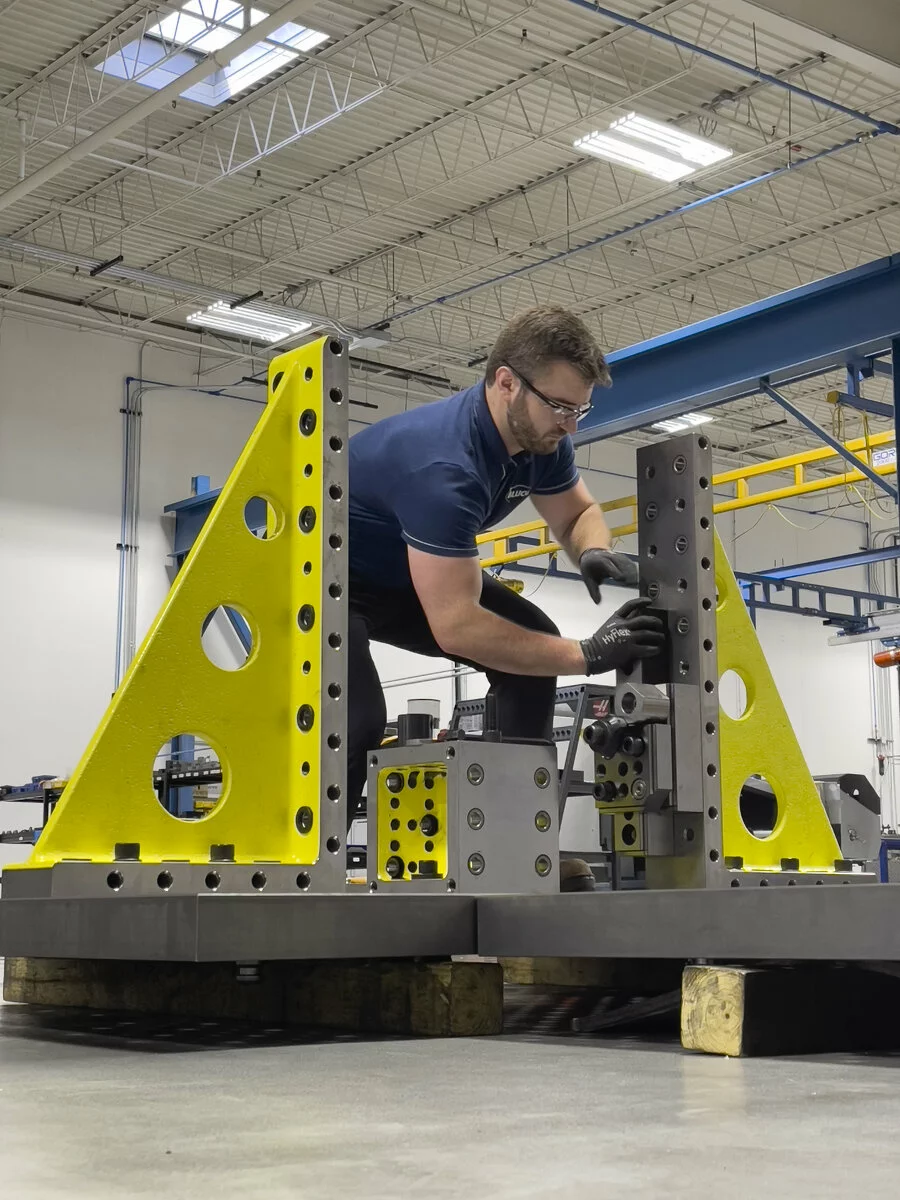 Are there CNC machines in your facility? If so, go out and look at your machine beds…are you looking at t-slots? Are there open set ups setting on top of your machine beds and pallets? Or are you relying on dedicated fixtures even for short runs and prototypes?
If you answered yes to any of the above, you could be unintentionally letting time, money and resources slip away. And it's slipping away even if your machine is brand new. Even if it's top-of-the-line. Even if your staff is highly skilled.
How, you may be asking?
In a word, workholding. How you hold your work matters — it's the first step of every job, and the foundation of everything else that happens at your shop. So even if that step is taking mere seconds longer than it needs to, multiply that times every operation, on every part, on every machine, for every project. It adds up, potentially slowing down your whole operation. Our engineers can help you regain control of your schedule and your profits with a modular solution engineered for your application.
How, you may be asking again?
Here are five solid ways Bluco modular solutions for machining can make a significant difference to your organization.
#1. Eliminate Time Lost to Dialing in Your Part
Machines need to know exactly where the parts are every time. If you're clamping directly to the bed, or fixturing with an open set up, that location is slightly different every time. But once you have a Bluco modular solution installed, there's no dialing in necessary.
Our baseplates feature a precision grid of bored and tapped holes, and tolerances as low as +/-0.01 to 0.015mm (0.0004″ to 0.0006″). So you can put away your edge finders and let your probes rest – there's no need to relocate your part. Just load and go. Your 100th part is in the exact same place as your first part.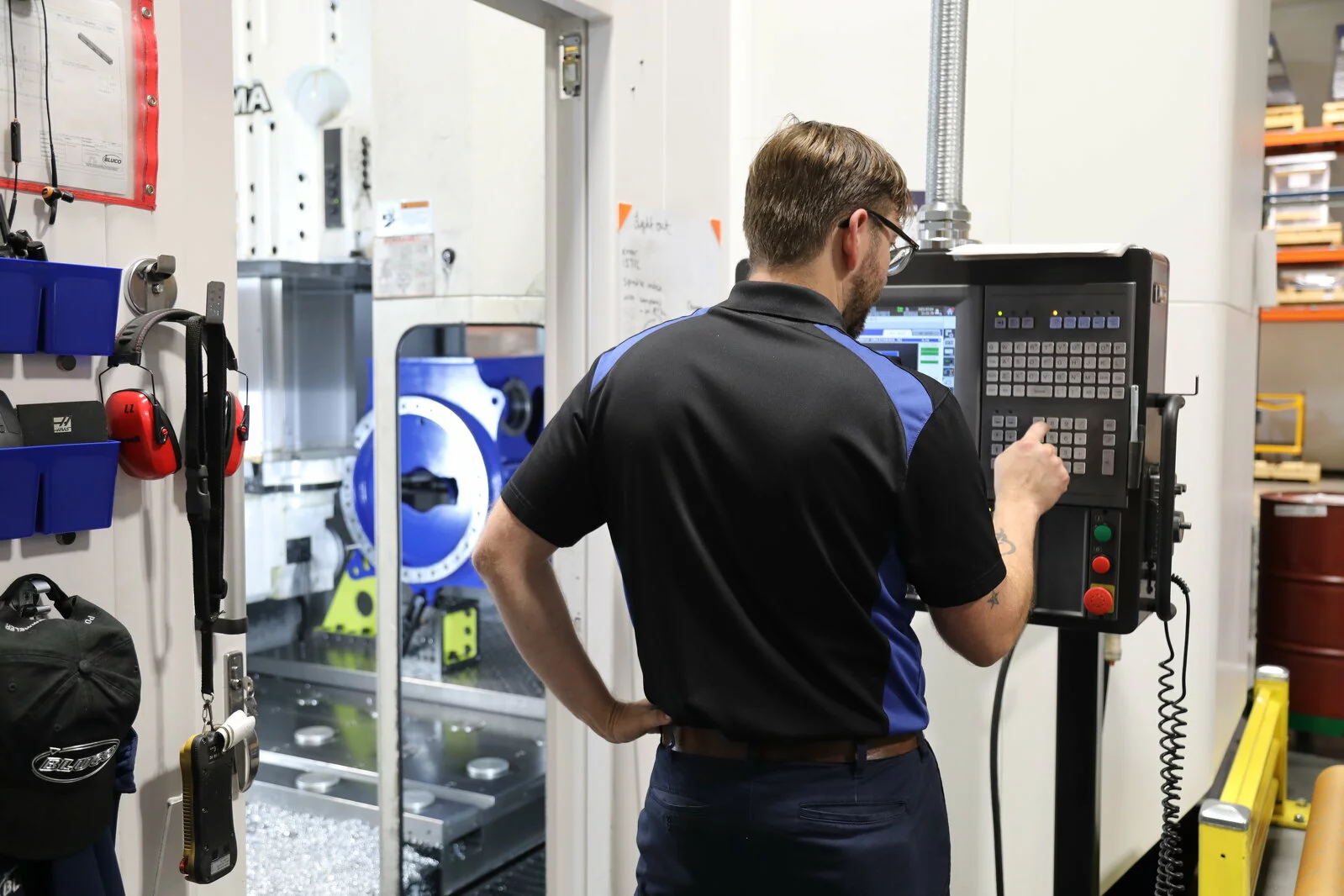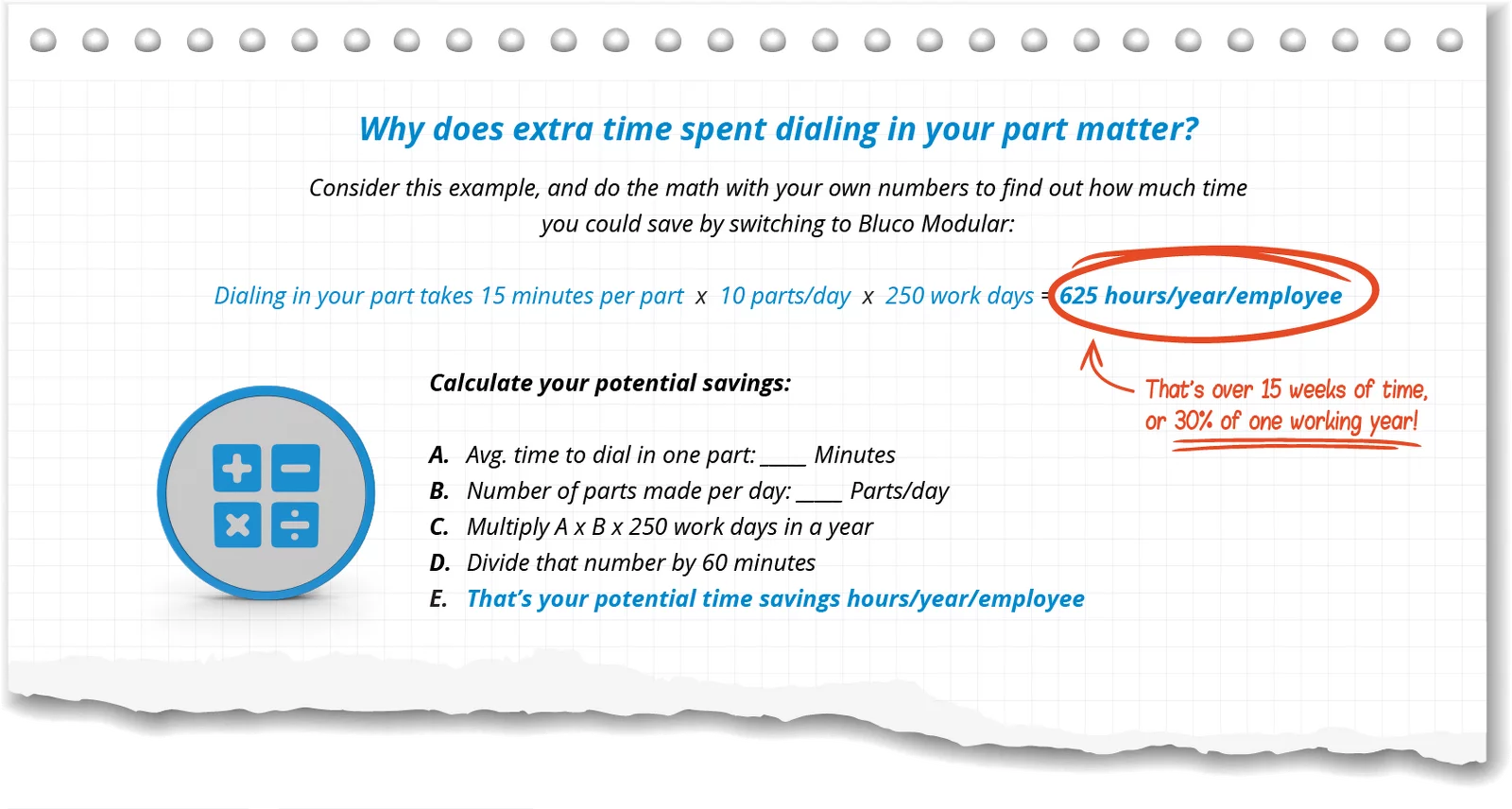 #2. Maximize Machine Bed Usage
T-slot machine beds and open setups can both limit the number of parts you can machine at one time. Bluco modular tooling removes those limiting factors. You can fit more parts on our modular baseplates for several reasons:
Holes instead of slots: The dense grid of precision bushing and tapped holes on our baseplates multiplies your options for tooling placement, allowing you to use space more efficiently.
Streamlined components: Modular tooling can take up less space than open setups, allowing more space for parts.
Extended work area: Our baseplates can be made larger than your machine bed. More usable space means more parts being machined at once.
Custom fixture designs: Our engineers will customize the design of your solution to allow your team, your machine and your process to reach their full potential.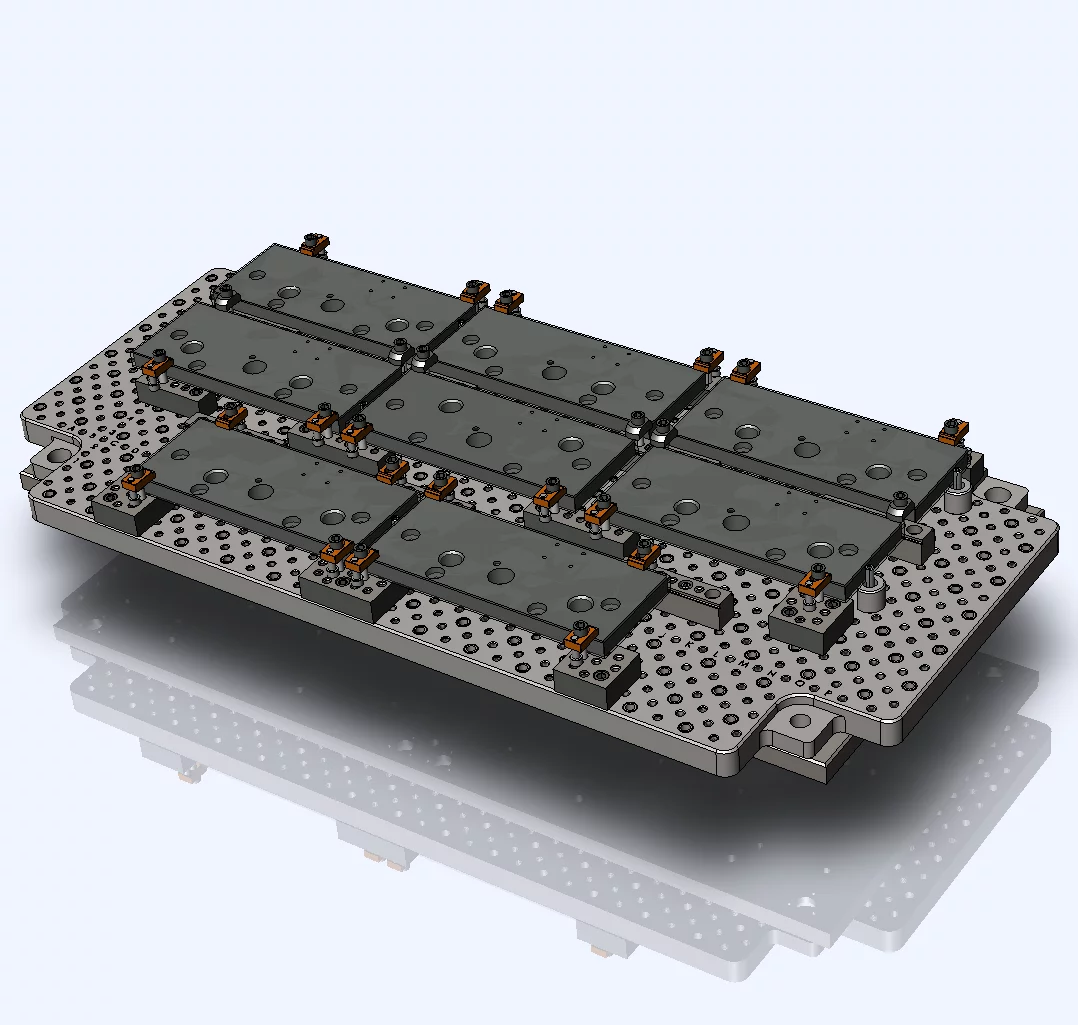 #3. Optimize High Mix/Low Volume Operations
There's a simple truth about machining operations: if your machine isn't running, you're not generating revenue. But in a high mix/low volume job shop environment, repeated pauses for changeover are a necessary part of the daily routine. Bluco modular tooling helps you keep your machines running longer by streamlining the process to minimize those pauses.
Faster Fixture Building: Modular fixturing cuts your fixture building time by half compared to traditional fixturing.
Faster Changeover: Not only is fixture building twice as fast, but you can also build a fixture offline while another is in your machine, so your chip to chip time is kept to a minimum.
Even Faster Changeover: Shave more time off the clock with our quick change feature, which lets you change out the fixture and baseplate in a fraction of the time.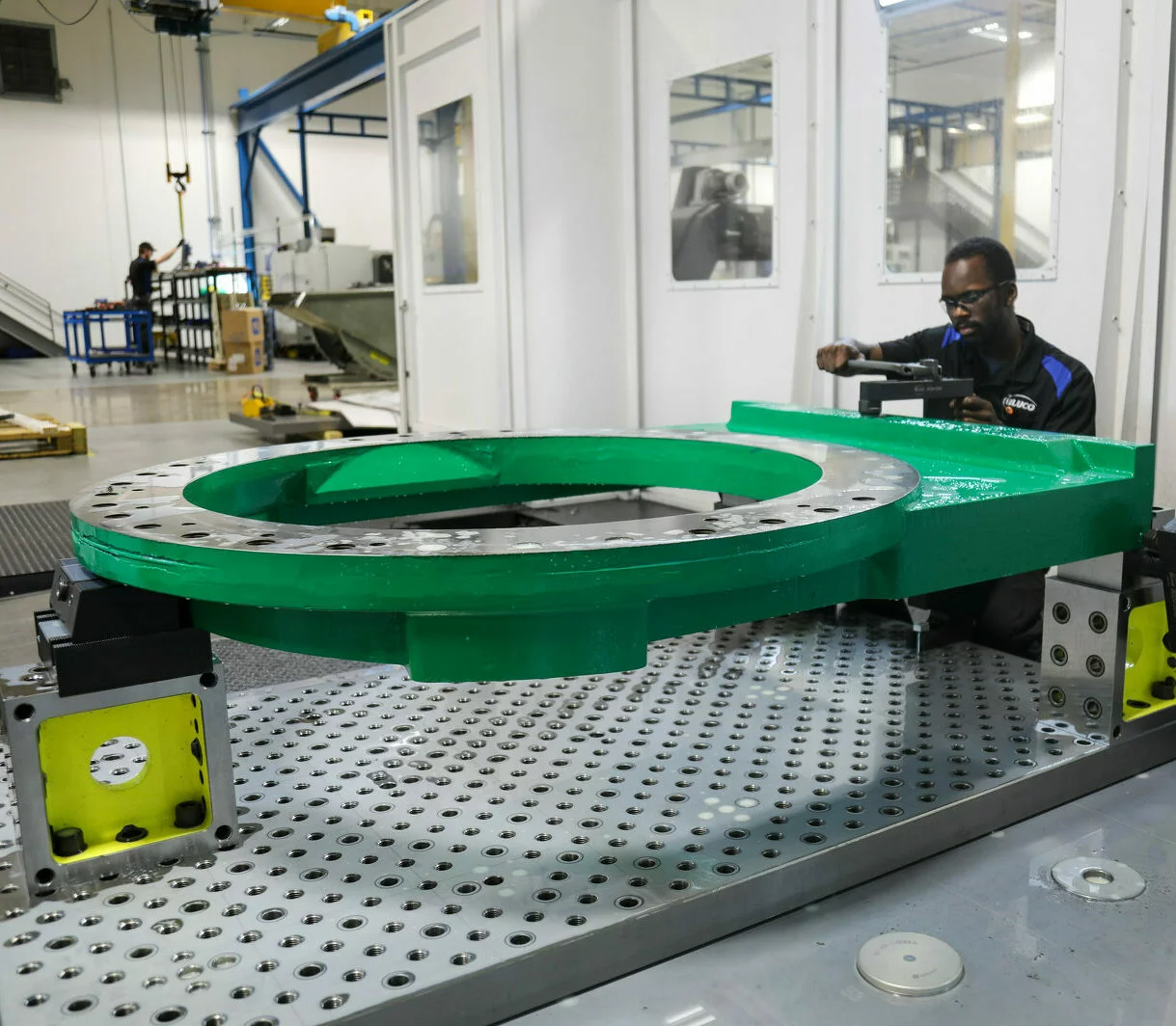 #4. Simplify Staffing
How complicated are your workholding set ups? Can a junior machinist get the job done, or are you tying up senior staff to build and rebuild fixtures, and to locate parts on the machine? Modular tooling allows you to put the right people in the right places, enhancing productivity.
CAD models of each fixture can be accessed from the shop floor, or you can go old school and photograph setups for reference. Either way, grid lines on the baseplate make it easy to locate the right spot to drop in a dowel or place a component. No tribal knowledge required.
Better yet, The precision of modular tooling means you can run your machine without supervision. Just load and go for lights out operation, or unattended time that frees up machinists to do other work while the job runs.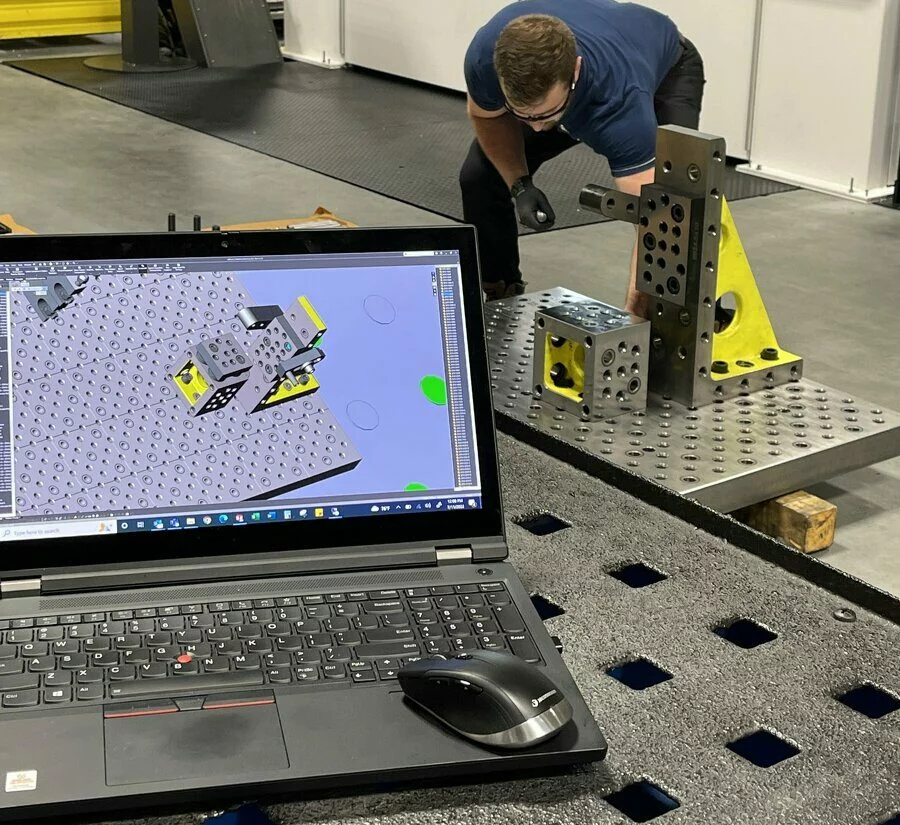 #5. Future-Proof your Shop
Automation, Industry 4.0 (or even 5.0), digitization – there's always something new in manufacturing, and it's always right around the corner. Modular solutions provide the flexibility to stay agile, keeping you ready for anything. From fixturing a prototype or handling product revisions, to accommodating advances in shop technology, or being a vital factor in achieving productivity goals, modular helps you get things done.
Did you know…
Bluco offers flexible rental options on all of our custom solutions
You can add components to your solution as your needs change. All of our parts have always been (and will remain) 100% backwards compatible with each other.
All of our components are covered by a lifetime manufacturing warranty and a two-year exchange program