Back to Blog
4 Critical success factors for specifying a robotic weld positioner
Efficiency doesn't begin and end with a robot. When you add modular fixturing to the mix, you get the quick changeover and repeatability that robots need to produce results."

Todd Bennett, Bluco Engineer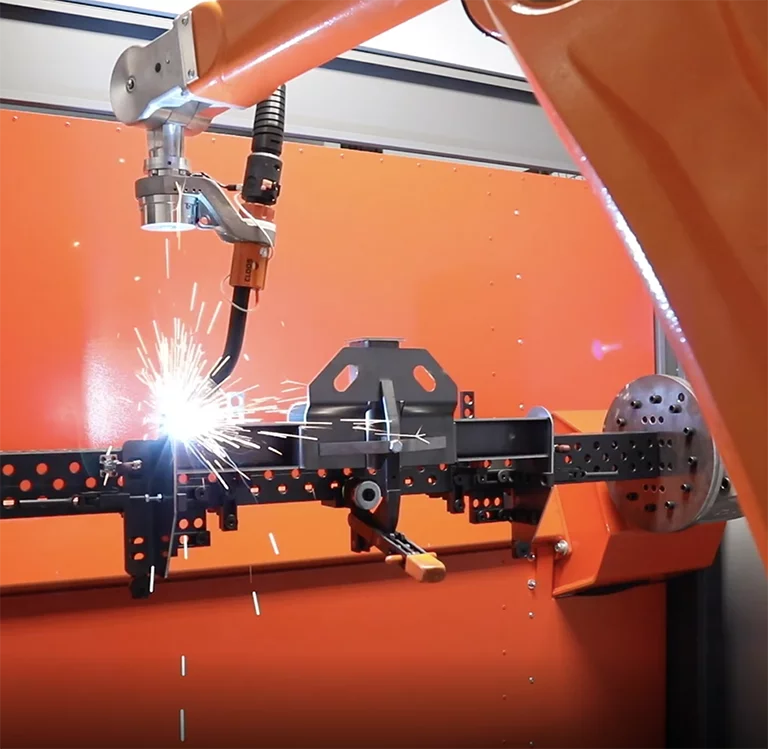 THE CHALLENGE
Specifying and purchasing a robotic welding system can be a complicated process requiring predictions about future volumes and types of jobs. One of the key components of your robotic welding system will be the positioner, whether it is a straight-forward stationary table or a more complex multi-axis rotary unit. The characteristics of the positioner will be a decisive factor in the flexibility and adaptability of your robotic welding system.
THE 4 CRITICAL SUCCESS FACTORS:
Weight Capacity: The positioner must not only be able to support the weight of your parts, but it must also be capable of bearing the weight of fixturing. This is an often overlooked aspect that can become a severe limitation of the robotic system.
Swing Diameter: The swing diameter must not only account for the dimensions of your parts, but must also allow room for fixturing, including clamps and other components used to locate your parts.
Work Envelope: The reach of the robot arm and the dimensions of the positioner need to be in sync. If you plan to weld multiple assemblies simultaneously, make sure to include the space requirements for this in your calculations.
Center of Gravity: For cells with a head and tail-stock positioner, Center of Gravity (CG) is also frequently overlooked. The further the CG is away from the centerline of the positioner, the more torque (or horsepower) will be required to roll the combined weight of fixturing and parts.