Back to Blog
3 Reasons to GO BIG
You've already discovered what modular fixturing can do for welding. Now imagine bringing modular versatility, efficiency and repeatability to machining.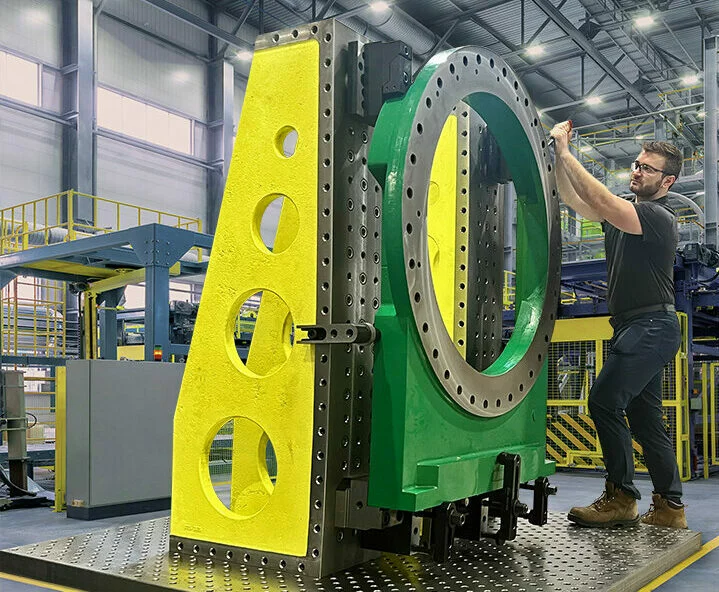 It was only a few weeks ago that the first and only complete modular workholding system for extra-large parts made its trade show debut at IMTS 2022.
Dubbed the Bluco 8024 Series, the system's six-foot knees attracted a lot of attention. In fact, our application engineers have been busy doing what they do best — designing, proposing and delivering solutions — since we got back from the show.
But it goes without saying that last week wasn't the first time a manufacturer had large parts to machine. So why not just keep doing it the way it's been done in the past? Why not just continue stacking small components to make a large fixture? Why not just use whatever's on hand to create an open set up?
Because doing it the old way is costing you time, money and resources. Bluco's 8024 system puts time back on the clock, profit back in your books and keeps raw materials out of the scrap heap.
How? Size, versatility and customer support. Consider the 3 common scenarios below, and their potential outcomes with and without the benefits of the 8024 system.
Scenario #1: You're fixturing a large prototype part
The Traditional Method:
You've got some 1-2-3 blocks in the shop, and one of your more experienced master machinists has used them to come up with a fixture only they know how to build. Because it's made of so many smaller components, this one fixture has taken days to assemble. Plus, it's used up just about every block and clamp in the shop…you hope no one else needs fixture blocks or components. The part you're machining is several tons, so it takes a couple of hours (and a crane) to dial it in on the fixture.
The 8024 Modular Method:
The 8024 Modular System in your shop never met a prototype it couldn't fixture. The foundation of the system is a baseplate that features a precision grid of hardened bushings and tapped holes that locks in precise positioning. So whether it's the first or the hundredth part, you can skip indicating it in altogether. You pull up a CAD model of the fixture on your smart tablet and grab a junior machinist to assemble the modular components. He bolts it together in half the time it took with traditional fixturing — bigger components mean fewer pieces to assemble, which means less assembly time, and the alpha-numeric grid on the baseplate makes it easy place components exactly where they need to be.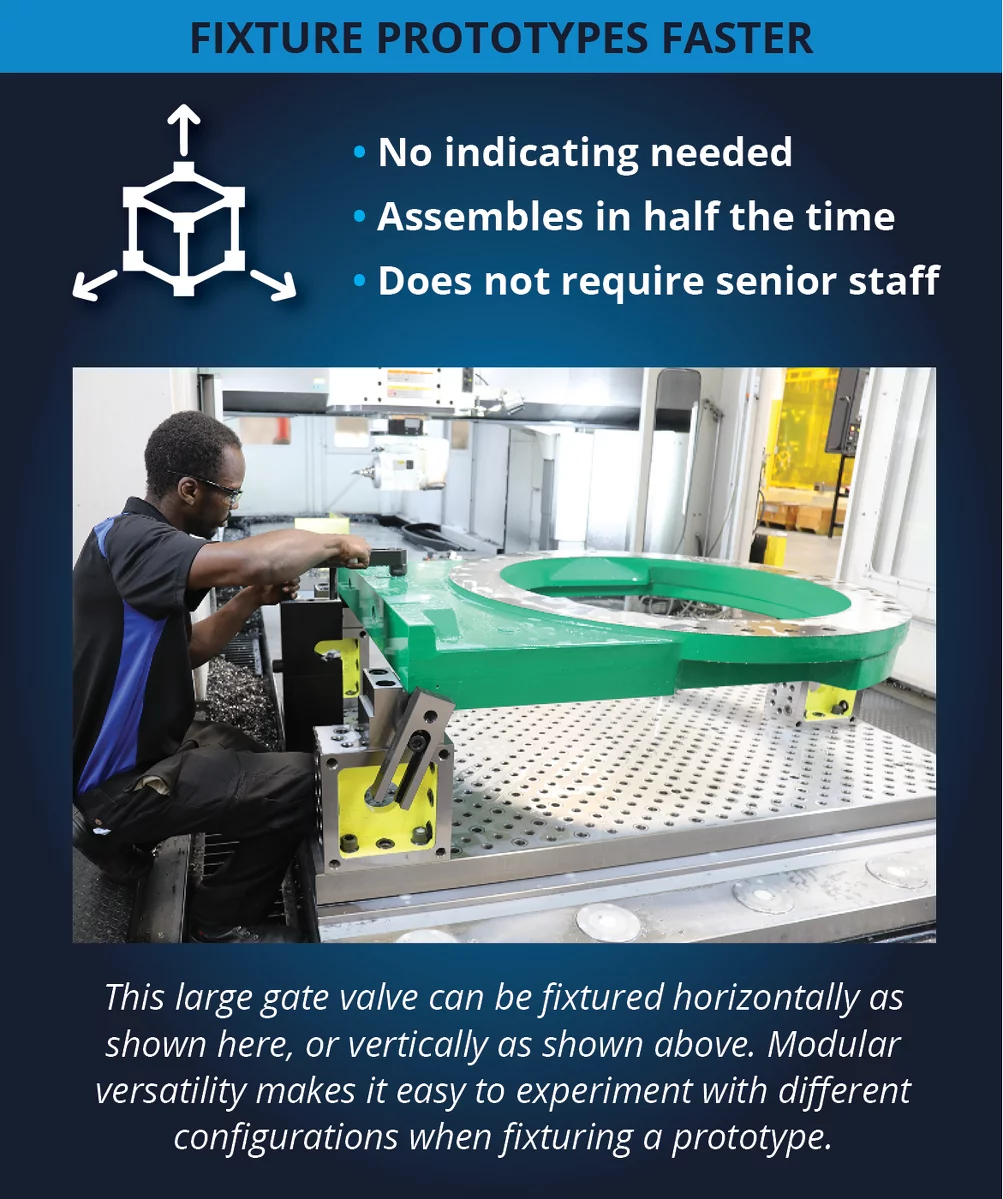 Scenario #2: You're bidding on a new project
The Traditional Method:
You just got an RFP for a line of massive turbines. The proposal is due in 48 hours, and fixturing parts of this size will require tooling you don't have. To design the fixture you'll have to pull engineers off other time-sensitive jobs. On top of that, the request specifies tolerances of +/- .005", and there will be five sizes in the line. Twenty four hours later, you're still chasing leads on raw materials for the fixture and scrambling to work these purchases into your budget, your engineers are on the brink of mutiny, and you're no closer to a proposal than you were yesterday.
The 8024 Modular Method:
You smile as you read over that RFP. You glance over at the set of 6' knees that are part of your 8024 modular workholding system – part size won't be a problem. You may need a second modular system to meet capacity, but budget isn't an issue. You know Bluco offers rental programs. And the tolerance? You could drive a bus through that +/- .005". The tolerance of your Bluco system (+/- .0006″) exceeds that requirement by a whole decimal place. You don't even bother your swamped engineers with this project. Instead, you call your Bluco application engineer and upload CAD models to the Bluco website. The next day, you've got a fixture design, a quote for the second system that includes rental options, and you quote the project accurately and on time.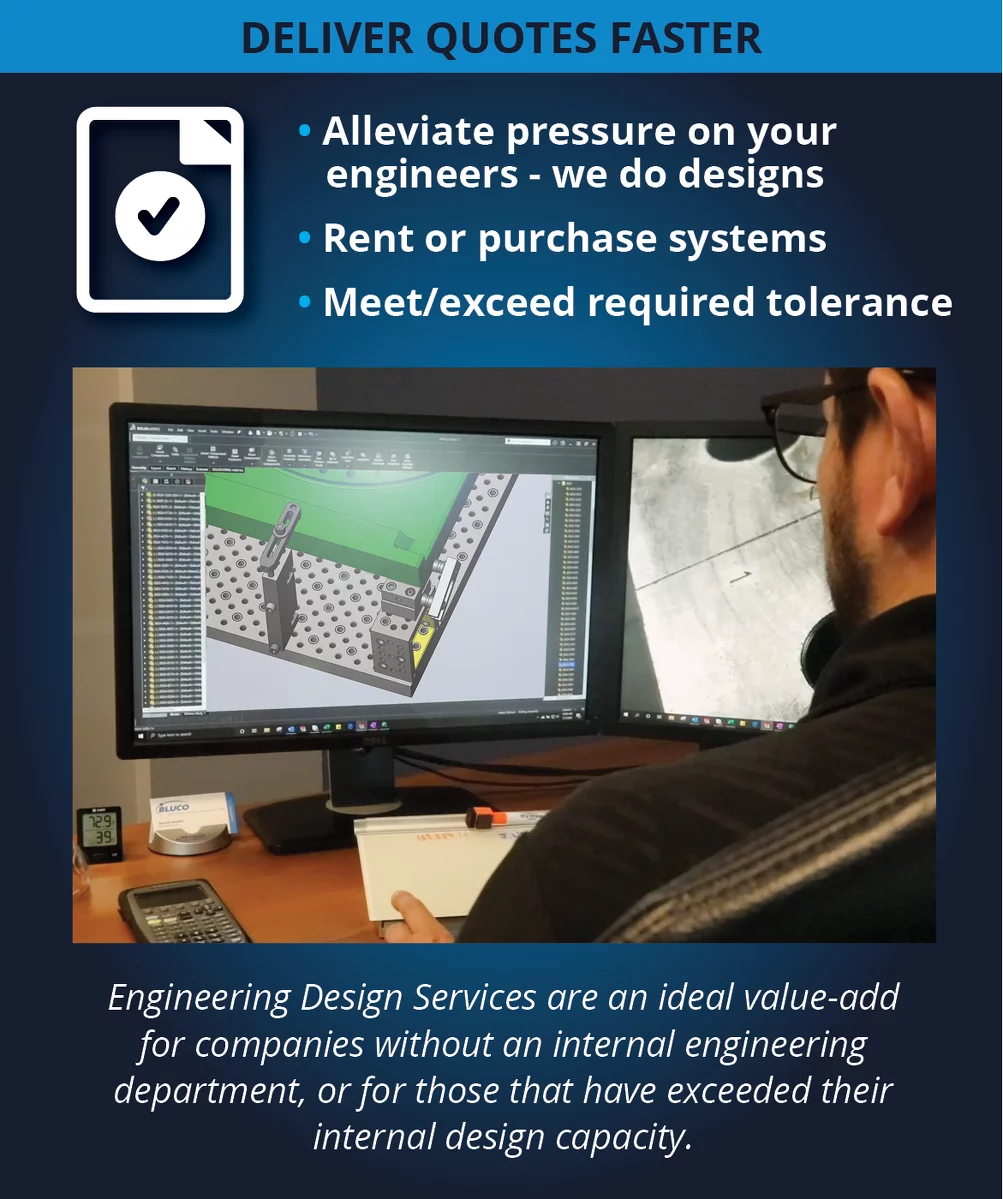 Scenario #3: Revisions to an existing part
The Traditional Method:
You've always used the same open setup to make this large part. And although fixture build time and the amount of scrap produced is higher than it should be, it's getting the job done. Until the programmer combines operations to gain efficiency and your engineers make design revisions. You need fixturing components you don't have to accommodate the changes. Big components are not easy to get, so you'll have to order them and wait weeks for them to arrive. The scheduling group is frazzled, and you know that the entire organization will have to work around the delay in the production of this crucial part.
The 8024 Modular Method:
Your programmers and engineers are notorious for making changes, but it barely phases you. You're able to adjust the fixture on the fly by easily moving or changing out components. You can prototype the new fixture offline on another baseplate, or simply move things around using the library of component CAD models you downloaded from Bluco's customer portal. You've got everything you need this time, but you know that if you were to need additional components (or want to expand your system later on), parts usually arrive within 48 hours from Bluco's fully stocked Chicagoland warehouse. You're able to accommodate the program and design changes, and the entire process keeps flowing smoothly.