Back to Blog
Bluco introduces upgraded "build your own" Manual positioners
Powerful options turn manual positioners into custom-fit solutions.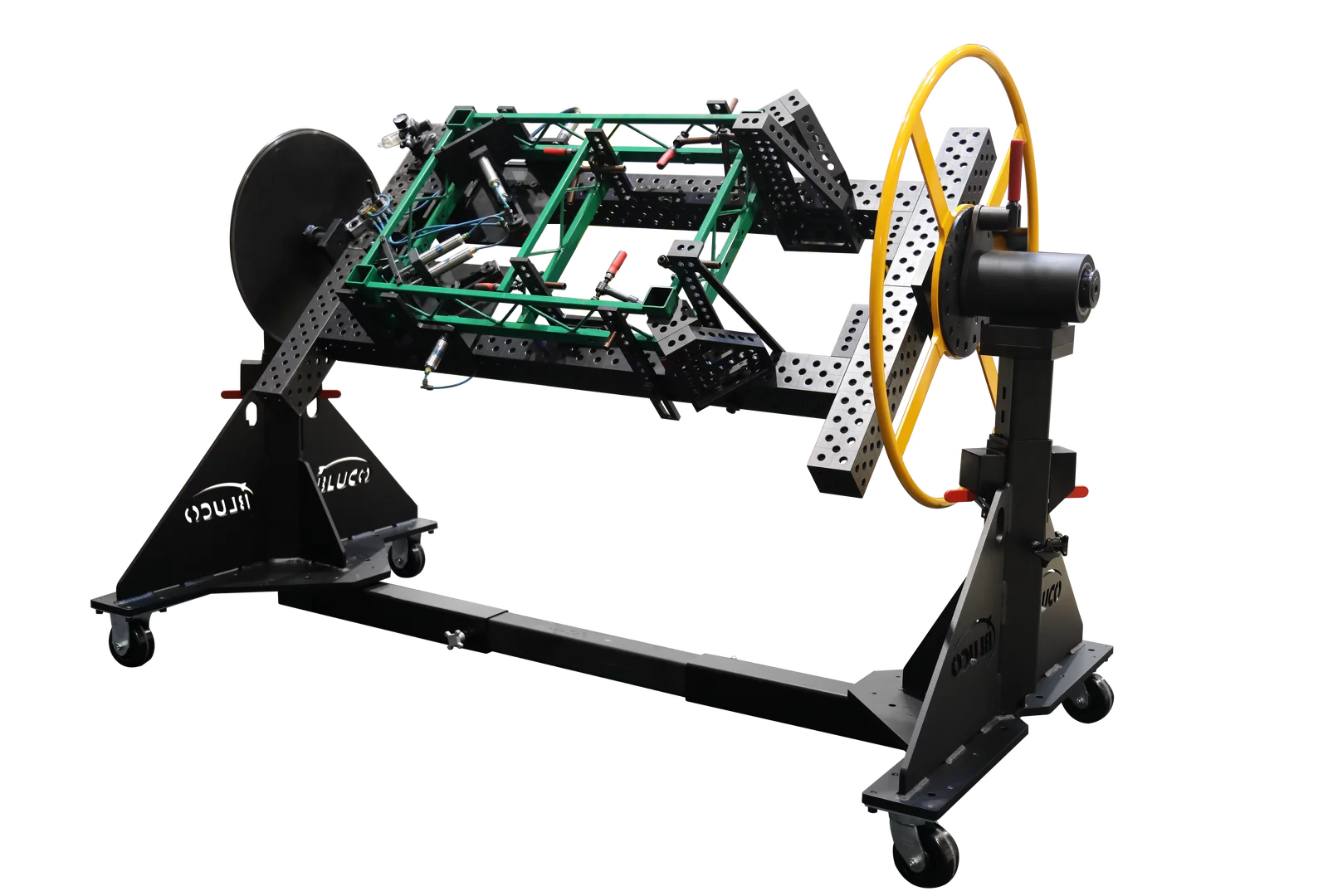 Bluco's manual positioners have always been a favorite solution among welders. After all, who wouldn't want to eliminate the heavy lifting, unnecessary reaching and overall contortions that some weldments require? Not to mention the fact that manual positioners keep all of your welds in position.
But we've never been known to accept the status quo here at Bluco, so our engineers decided to Make it Better. They've boosted the flexibility and utility of our positioners to a new level, with options that allow you to essentially build your own custom-fit solution from the ground up (of course, our engineers will still assist you every step of the way to make sure you're getting the perfect solution). Read on to discover some of the choices now available.
Step One: Choose Frame Options
The frame of our manual positioners comes standard with manual center-line height adjustment and expandable width. Now, our basic frame has been enhanced to allow more flexibility.
In addition to the customizable swing diameter (40" is standard), the positioner can now be easily be customized to be anchored to a permanent location in your shop, or to roll on casters so you can wheel it wherever it's needed. You can also add an optional hydraulics package that allows you to adjust the height with the touch of a button.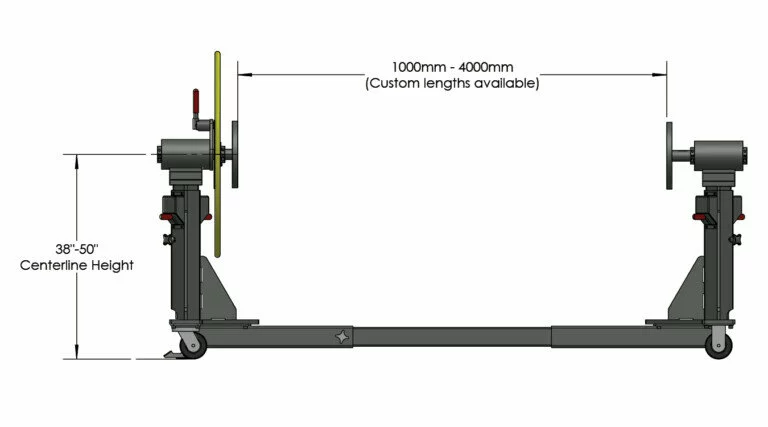 Frame Safety Features:
Locking foot brake prevents wheeled fixture from moving
Step Two: Choose Drive Options
Next, decide how you'll rotate your part. As always, the iconic yellow captain's wheel on our rollovers can be customized in a number of ways to fit your needs. First, the rotation ring at the center of the wheel can be set to our standard 22.5° increments, or in custom increments if you require larger or smaller adjustments inside of a full 360° rotation range.
Additionally, you can now upgrade the headstock drive assemblies to either a manually driven gear box, or powered gear box. If you choose a manual box, it can be upgraded (either before purchase or at any time down the road) to handle different powered drive option, including a pneumatic or electric motor.
Drive Safety Features: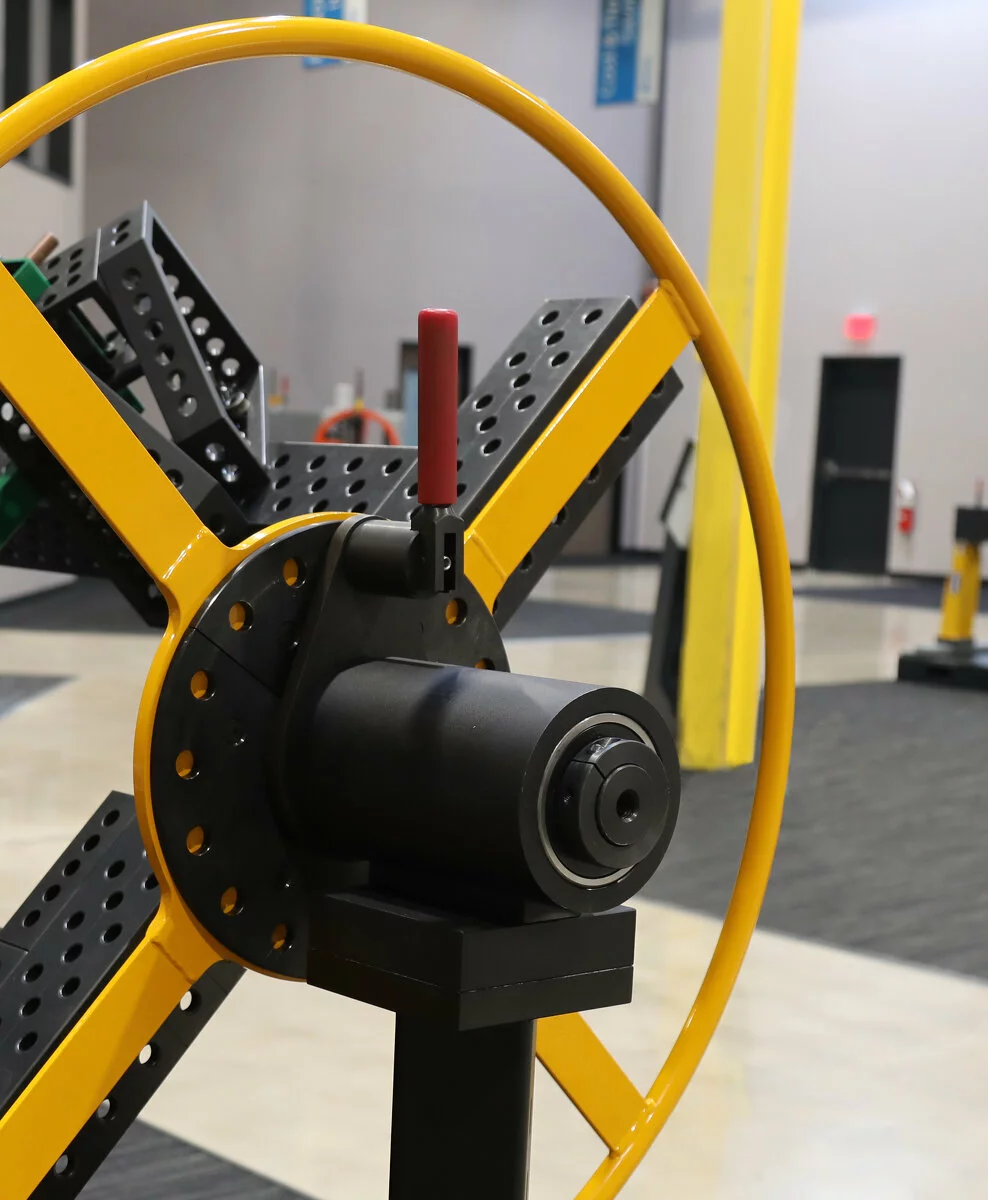 Step Three: Choose Spine Options
The space between the headstock and tailstock of your manual positioner will be completely customized for your application. Whether you need a single spine with outriggers to hold a large part, or a modular window-frame fixture, you'll get a fixture-building base that's completely compatible with our 450+ modular components.
Spine Safety Features:
Our upgraded manual positioners are in stock and ready to be customized to fit your needs. To get a feel for our manual positioners and other modular tooling, schedule a visit to our Showroom by calling 1.800.535.0135 or email us at [email protected].